Hiking matters #69: The mountain island of Di'nem – the ultimate Batanes adventure!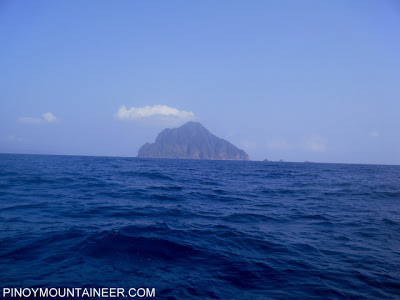 In an incredible and unforgettable experience, this past weekend I joined the Batanes Mountaineers in their exploration climb of Di'nem Island in Itbayat, Batanes – the northernmost municipality in the Philippines. This mountain island is virtually unexplored and is known only to the Ivatan fishermen who go the island to hunt for tatus or the coconut crab. I came upon the invitation of William Antonio – founder of the Batanes Mountaineers and a most generous host and with the support of SEAIR.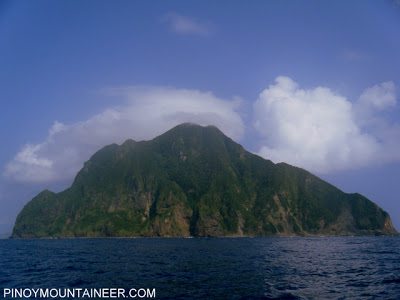 On October 11, 2009 we set out for Di'nem Island from the Basco port. The waves were still rough but we were joining Ivatan fishermen who were extremely skilled in boat navigation. They were familiar faces to me as we had already spend the other night in 'socials' with tanigue sashimi and raw octopus as pulutan! Our craft was an open boat fashioned in the traditional Ivatan style but beefed up with a 16-hp. engine. We would be heading north-northwest for 3 hours in open sea.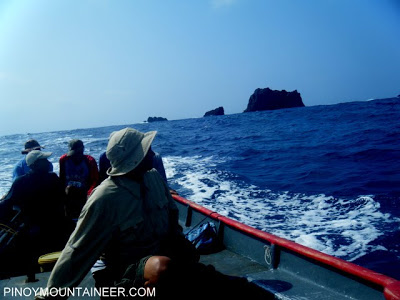 The boat ride itself was very excting. I know it was a very rare privilege because no one really goes to Di'nem and to go there requires a lot of fuel and navigational skills. Steadily but suspensefully we crossed the waters that had waves they said reached 15-20 ft.! Even some Ivatan guys would take Bonamine before setting out! Fortunately my vestibular system did not fail me. Gradually the faint image of Di'nem appeared, and it grew larger and larger. Yet the strength of the waves was such that the entire mountain island would disappear from view.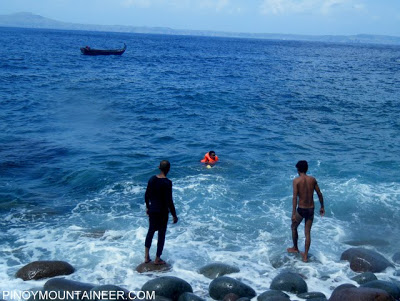 Finally we approached; the forested rocky contour of the island became evident. The island was a mountain and the mountain was an island: there was no coast to speak of and the boat could not even land. Instead, we had to swim to shore before we start trekking! The fishermen found a natural harbor for us but even then the waves were still rough and I nearly got my head bumped on a big stone when one giant wave suddenly crashed as I was nearing the shore.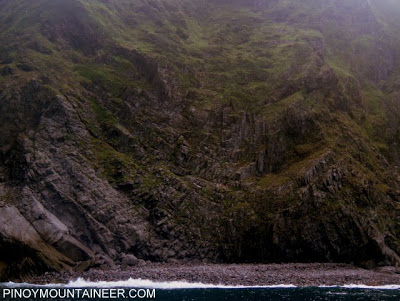 After a quick fix we started trekking. It was all rock at first! I remembered Guiting-Guiting, but at least in G2 the rocks were mostly stable. In Di'nem island, just like in Indiana Jones, the 'trail' would collapse as soon as you step on it. And you have to be alert always because rocks would fall upon you anytime. And you couldn't even rest because if you do, fiery red ants would quickly strike.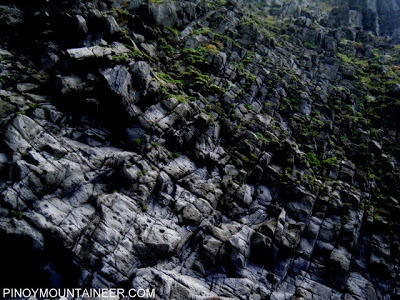 The steepness of the mountain island reminded me of Pan de Azucar during the Visayan Voyage. The edible stem of an herb that nourished us in Pan de Azucar was also found in Di'nem. But at least Pan de Azucar has been climbed before and we finished in 3 hours. With Di'nem we had no prior experience – not even the elevation was known and after three hours we were still slowly inching up the dense jungle. At times our guides had to fashion ropes out of vines to support our precarious ascent.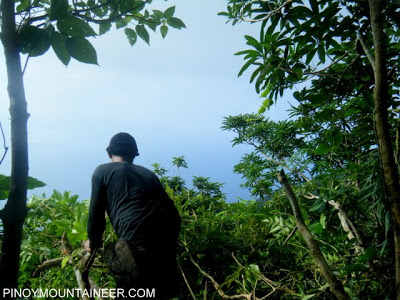 Finally at 1500H we reached the peak area. We were a few dozen meters short of the highest point but we didn't want to hack our way up since the views were the same and we were running out of time. Night trekking is one thing, but night sailing is another (as I would discover later on). Besides the idea of swimming in open sea at night kinda scared me. So after documenting our successful climb we headed back.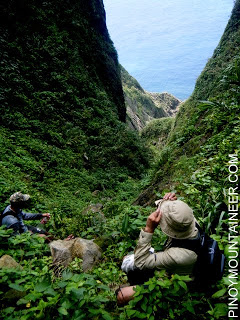 The descent was much faster – after all the trail has been somewhat cleared. I took time to appreciate the unique views that Di'nem offered: Right in front of us stood Itbayat Island – the largest coral island in the world and the northernmost inhabited island in the Philippines. On its coral plateau rose Mt. Riposed (WNW).
By 1700H we were back in shore. Of course the 'climb' isn't over yet – we still had to swim our way towards the boat. Fortunately the waters were calmer. Before swimming we partook of raw urchin (uni sashimi) . Sushi is one of my favorite foods and uni is one of my favorite sushi. But I never got it so fresh and raw: while eating its entrails its feelers were still moving! A great feeling of relief came to me when we finally got back on the boat.
Yet – as if the whole day weren't enough – sailing a night was a new experience altogether. Watching the , relying on the stars and lighthouses for navigation, partaking of a meal while on a boat . And Sir William pointed to me glittering objects besides us: the "fireflies of the sea" – the first time I've ever seen them. Astig!
Finally, by 2030H we arrived back in Basco. The lights at the port welcomed us warmly; and looking back (as I still do), I am greatly overwhelmed. It was my third time in Batanes but this one stands as my ultimate Batanes experience. The hospitality and the warmth of my hosts and the great adventure they shared with me are great treasures that are as glorious and memorable as travel and adventure can ever get.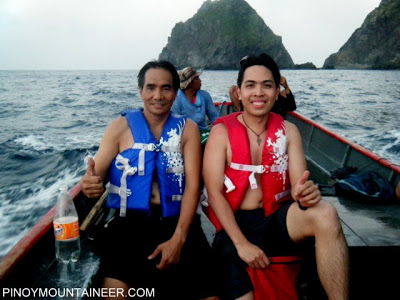 The blogger (profusely) thanks Sir William Antonio and his family and the Batanes Mountaineers for warmly accommodating him in Basco, Batanes and inviting him in their Di'nem exploration on October 11, 2009.