Gear Review: Snow Peak tableware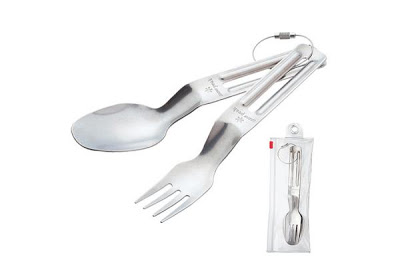 Gear review by Cecil Morella (AMCI)
Equipment Adviser, PinoyMountaineer.com
PinoyMountaineer.com is honored to have Sir Cecil Morella of AMCI as its equipment adviser starting May 2009, providing insights on camping gear and equipment in the website's "Climb Gear" section.
Left to my own devices, I would have no qualms eating out of pot covers and using ladles for utensils at campsite meals. Climbing with a group, however, requires that I bring a modicum of table manners up the mountain.
For the lighest option I have yet to see any climber top the Pinoymountaineer, who used Japanese seaweed wraps to eat steamed rice during an Ilocos climb in 2009. For me, light tableware means an all-purpose 0.6-litre single-walled titanium mug and a titanium spork, both by Japanese equipment manufacturer Snow Peak. Both add up to a near-unbeatable 3.4 ounces (less than 100 grams), just a fraction of the weight of the Lock n' Lock lunchboxes favoured by many of my backpacking friends. I once seriously considered sawing off half the spork's 5-inch handle, but then that seemed overkill.
If you agree with my pack light philosophy you might want to look for Snow Peak's short-handled spork instead, to shave another 0.1 ounces off your mess kit. You can use the ladles as serving spoons. The other thing I have learned is that plastic cutlery does not work for me — I broke a GSI-branded fork and the equivalent spoon melted when I used it as a ladle for cooking.
Theoretically, I know I should get a separate titanium plate or bowl, both available from the same manufacturer and weighing a mere 2 ounces or less, but I found both of them superfluous.
In real life the soup, rice, viands or pasta do not get cooked at the same time because of equipment limitations (two stoves for every six campers is the norm, at least in my club, so you do not kill yourselves with unnecessary pack loads). So what happens is, as soon as you pitch your tent and camp kitchen you assemble and fire up the stove and boil water for the coffee, tea, chocolate drink or soup, or all of them, to warm your tired, cold bodies. All of these will have been ice-cold before the main course is ready, so I can safely use the mug for both solids as well as liquids.