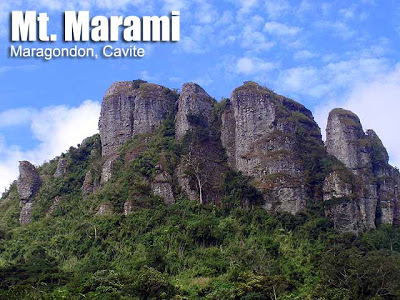 MT. MARAMI
Maragondon, Cavite
Jump-off point: Brgy. Ramirez, Magallanes, Cavite
Alternate jumpoff: Brgy.Talipusngo, Maragondon, Cavite
LLA: 405 MASL
Days required / Hours to summit: 1-2 days / 4-6 hours
Specs: Minor climb, Difficulty 3/9, Trail class 1-3
Features: Rocky outcrops, scenic views of Cavite
Last updated: January 16, 2015
BACKGROUND
If Pico de Loro were a blockbuster movie, its sequel would be Mt. Marami, set in the same location and sharing the same characteristics. Matching Pico de Loro's rocky tower are two grand structures, surging up from the slopes: the summit of Mt. Marami, a massive, monumental composite of rocky pillars; and its guardian, the smaller Silyang Bato. The name 'Marami' is of local origin, and is attributed to the 'many rocks' that formed it. Subconsciously, this choice of name is profound, considering the sedimentary nature of the rocks found in Marami. Indeed, in recent geologic past, Mt. Marami below sea level. Silyang Bato, for its part, has a more modern etymology; according to the locals its original name is 'Nagbuo', and was christened with its present name by the earlier mountaineers.
The major jump-off to Mt. Marami is Brgy. Ramirez in Magallanes, Cavite. However, the summit and its environs are under the jurisdiction of Maragondon. It is a 3-hour drive from Manila; passing by the coastal road, onwards to Tanza, then Naic; from Naic a jeepney can take you to Magallanes. Brgy. Ramirez is just 10 minutes away from the town proper, and accessible by tricycle. Go to the barangay hall, where you can arrange for guides, or proceed to do the trek.
The trail begins smoothly; although it poses concerns for both wet and dry seasons. It is severely muddy when wet; whereas sun exposure is notoriously acute when dry. Even so, the views are rewarding. The first landmark is 'Ilog na Kayrayag', a nearby river; next is Bangkaan River, which you have to pass thrice. In both rivers, you have the wade your way — water is usually knee-deep though with heavy rains, they may swell to forbidding levels. The last river crossing is around 1.5 hr from starting point. A bamboo bridge was in place here, before it was wrecked in April 2007.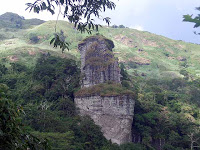 The ascent commences after Ilog Bangkaan; and here, there are two variants of the trail. One is the Nuestra Senora dela Paz variant, and the other is the Talahib variant. The former offers frontal views of both monuments (including a close-up of Silyang Bato), and is recommended over the Talahib, even as the latter has a more gradual ascent, and it is the one used by the locals. In both trails, the environment is comprised by woodlands and sections of grasslands.
THE NUESTRA SENORA TRAIL
This trail approaches Marami from the west. Thirty minutes into the Nuestra Senora, you'll encounter a nipa hut, called 'Kapihan' by some. Nearby is the last water source. An hour into the trail is Campsite 1, which offers majestic views of Silyang Bato and Mt. Marami. After one more hour of trekking, the bamboo forest will be reached. After an hour, Campsite 2 appears, in the southern portion of Mataas na Gulod. From here, you will enter another forested part to reach the base of Marami, where a campsite, the one most often used, is located. A ten-minute assault of the summit ensues.
THE TALAHIB TRAIL
This trail approaches Marami from the south. It uses a "saddle peak" – the slopes of Mataas na Gulod peak on the south side – instead of approaching Mt. Marami directly. Hence the ascent is more gradual. Instead of following the river to Nuestra Senora, you go straight, and after 1.5 hours, you'll encounter a nipa hut. Beyond this, you will see the two structures for the first time. The trails from here on are mostly 'talahib' grassland – the talahib can grow very tall and may obscure the trails. You may encounter grazing cows at this point. Then a campsite will be reached after over an hour, just below the 'Mataas na Gulod'. Afterwards, you will approach Mt. Marami via the bamboo forest. The trails here can get very confusing. After the forest, a clear-cut path to Mt. Marami emerges; and just five minutes of bouldering will take you to the summit of Mt. Marami.
At the summit, rocks, patched with unusual mosses, lichens, and ferns, comprise the scene. Winds are strong and weather is cool. Dramatic views ensue, affording a panorama of the Maragondon mountains, including Pico de Loro, Mt. Mariveles, and even Mt. Banahaw. Dramatic rock formations, set in this beautiful background, create an infinite number of photo opportunities.
ITINERARY
VIA THE NUESTRA SENORA TRAIL
Day 1
0500 ETD Manila. Take Saulog bus to Naic (P65)
0700 ETA Naic; take jeep to Magallanes (P30)
0800 ETA Magallanes. Register at police station. Take tricycle to Brgy. Ramirez
0900 ETA Brgy. Ramirez. Register.
0930 Start trek
1000 ETA Ilog na Kayrayag. Register at the house past the river (if available)
1100 Cross three segments of Bangkaan River; proceed to Nuestra Señora de la Paz
1200 Have lunch at Kapihan Nipa hut. There's a nearby water source.
1300 Resume trek to Campsite 1
1400 ETA Campsite 1
1500 Reach Bamboo Forest
1600 ETA campsite at base of Mt. Marami summit.
1630 Assault the summit; explore
1800 Return to camp.
1830 Dinner / socials
Day 2
0530 Wake up / sunrise viewing
0630 Breakfast
0730 Break camp
0800 Start descent
1030 Back at Kapihan nipa hut
1230 Back at jump-off point at Brgy. Ramirez
1300 Leave for Municipal Hall, then Naic via jeep
1400 ETA Naic. Take bus back to Manila
1700 Back in Manila.
PRACTICALITIES: MT. MARAMI
Transportation

Public

(1) Bus, Baclaran to Naic [60 pesos, 2 hours]

(2) Jeep, Naic to Magallanes [35 pesos, 45 minutes – 1 hour)

(3)Tricycle, Magallanes Police Station to trailhead [30 pesos/person; 20 minutes]

*Note: 5pm is the last trip of the jeepney from Magallanes to Naic. Tricycles are available until 2100H and can be rented to take you all the way to Naic. Chartering jeepneys is also a n option.

Approximately 3 hours travel time because of various stops and delays.

Private. Take CAVITEX or Aguinaldo Highway all the way to Naic, Cavite, then follow the signs to Magallanes. Ask directions for Brgy. Ramirez. Parking is available near the barangay hall.

Approximately 2-2.5 hours travel time

Registration

(1) Register at barangay hall. No fees collected.
(2) Logbook at the house past the first river crossing. P20 registration fee.
Note: The mountain's jurisdiction is disputed by Maragondon. Let us know if there are any changes.

Available; assigned at the barangay hall or by prior arrangement (500 pesos/guide/day)

Guides – 09267122198
Guides – 09083246967
Guides – 09982421045
See more contact numbers in the comments below.

Campsites and waypoints

(1) Campsite 1 before the bamboo forest
(2) Summit campsite

Water sources

Present near the streams at the initial

Cellphone signal

Sporadic at the lower reaches

Present from 600m up to the peak

River crossings

Bangkaan and Kayrayag Rivers are normally less than knee-deep but can swell to chest-deep levels if raining heavily. Do not attempt to cross if waters are strong.

Roped segments

None

None

Minimal

Rattan

Minimal

Hiking notes

Mt. Marami is notorious for its labyrinth of trails, waylaying many hikers. It would be best to have some experienced hiker or guide to accompany your group as the trails are really confusing.

Brace yourself for cuts from all the talahib! Also, anticipate mud.

Sidetrips

Nearby mountains include Pico de Loro, Mt. Buntis, and other mountains of Maragondon, as well as some historical sites in the area.

Alternate trails

None to our knowledge

Yes (2.5-4 hours to summit; 1.5-3 hours down on either of the above-mentioned trails)

Facilities at jumpoff

(+) Sari-sari stores
(+) Wash-up / shower places

500-700 (dayhike)
800-1000 (overnight)
TRIVIA
Average trek time is 5 hours. Interestingly, the water in the rivers and streams are milky white. However, when the rivers swell, it becomes murky brown. This is also the time when locals would go to the banks and try to catch some fish.
Mataas na Gulod was a more prominent landmark before the "discovery" of Mt. Marami. Its elevation is probably around 300 MASL. Speaking of elevations, the circulating elevation of Mt. Marami at 840 MASL is a gross overestimate. It might probably be referring to feet instead of meters, as 280 MASL would be a valid estimate using satelite data. The 405 MASL used in this IT is from the author's own measurement.
WEATHER OUTLOOK: MAGALLANES, CAVITE
Many thanks to Sir Erick Bautista of OLAY Mountaineers for the pictures and the advice, When the author of this IT climbed Mt. Marami, the views were covered with fog.