I enjoyed my Century Bangus Fillet at a cliff on top of a mountain!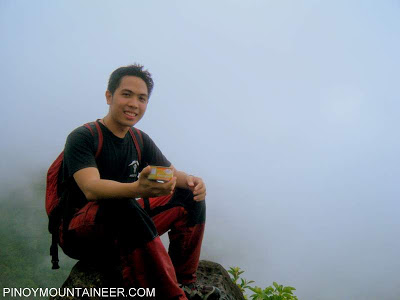 What do you do after thirty hours of a very exhausting, non-stop duty in the country's busiest hospital? Why, climb a mountain! Call me crazy (I admit I am – somewhat) but I have an explanation that may make sense: Physically it could be tiring but mentally, I could think of nothing more relaxing than climbing a mountain. Trek with friends old and new; talk of places to explore and discover. Aim for the peak, looming ahead of you. Breathe in the fresh mountain air, made fragrant by the forest trees. See all shades of green; see through clouds and see the earth. Hear the birdsong; hear the rustling of wind. Feel the cold; feel the rain…feel alive! Suddenly you become so relaxed and all the stresses and cares of your hospital work are removed. The day-off then becomes a tiring day and a relaxing day at the same time: a day to enjoy and remember.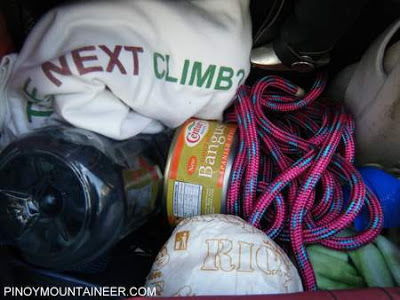 My plan, however, nearly failed. Before I knew it, I fell asleep upon my laptop and when I somewhat managed to open my eyes, it was already time for me to leave for the climb! Oh no! What about the things to bring? If I get late it'll be so embarrassing for my teammates who are equally excited. I better not ruin the day for them! Hastily I stuffed all the hiking things I could think off and took the bus from Manila to Sto. Tomas, Batangas, the starting point of our climb.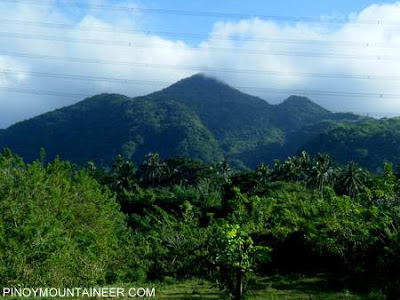 Fortunately there was no traffic, and in an hour I was already in Sto. Tomas. Before meeting with the guys I bought food at the market. Normally I do not eat lunch when dayhiking. But before I left the market I realized that this was no ordinary dayhike. We will not only be climbing Mt. Makiling. We will be traversing it, crossing over from Sto. Tomas to Los Banos! Ahead of us lay cliffs we had to cross; and a jungle laden with blood leeches and thorned plants. I felt that I needed to have a meal. So I took the most delicious-looking canned good I could find in the market: a can of Century Bangus (P30). And a cup of rice (P8) Plus, for trail food, half a kilo of dalandan (P12.50). There are some things I still forgot but I was good to go!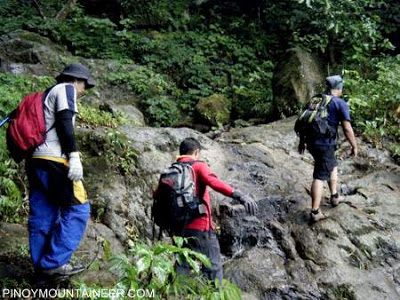 I met with the guys and by 0800H, all ten of us were ready to assault the mountain. First we crossed some dead creeks and woodlands; reaching a nipa hut that served as our first rest station. Then it started raining! We pressed on, even as the trails became more and more slippery and steep. Mt. Makiling is notorious for blood leeches and several of them began to creep on us, threatening to suck blood out of us. I am no stranger to what these suckers can do — just last year two of them went inside my eyes and I was scared to death!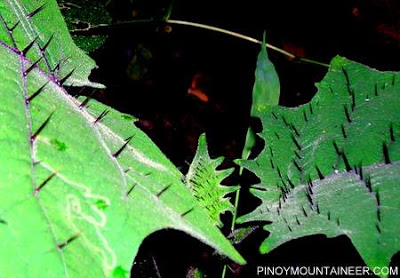 Nevertheless we continued; amid the malignant rattan thorns and increasingly colder air. Soon we were nearing noontime, and the question arose where to have lunch. A nearby campsite had wide spaces but it was full of limatik; we decided to push further. Melkas Ridge came next. A rocky, steep cliff passable only with the use of ropes, it is a far cry from your dining table: just one or two feet away is a deep ravine, a plunge hundreds of feet deep. Mists shrouded everything, and visibility yet. But at least there were no blood leeches. This will have to do. By 1150H we took off our backpacks and rested on Melkas Ridge – the cliff on top of a mountain.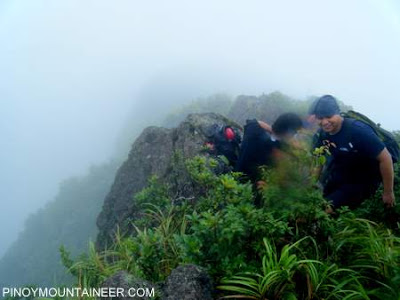 As everyone prepared to eat, I realized that I forgot more things: spoon, fork, can opener. But it's okay! Like canned softdrinks, the Century Bangus opens on its own. And unlike in the hospital or the city where it is unthinkable because of germs, there in the pristine environment of Makiling's jungle there are no pathogenic organisms and I could eat using my hands. So I placed my extra rice over a rock, garnished it with the Century Bangus Fillet, and began eating. Soon my teammates wanted to sample the bangus, too, intrigued by its novelty and aroma. And thus we had a hearty lunch, three thousand feet above sea level. To complete the gourmet experience I even got to feast on some wild berries for dessert!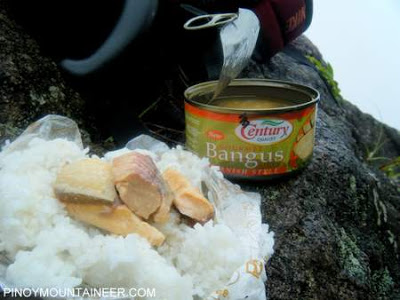 Energized, we continued on, crossing three peaks until we reached Peak 2 – the summit of Mt. Makiling. The rains had ceased and we congratulated each other for a successful climb. From Batangas, we had already crossed over to Laguna. Time check: 1405H. Elevation check: 1090 MASL – 3300 feet above sea level. After a brief rest, we started descending. The trails were still muddy but more established than the Sto. Tomas side. I was much more familiar with the trail too. I practically grew up in College of Forestry where my Dad used to teach. He took me up Makiling when I was 8 and I kept coming back. My teammates were familiar with the trail as well; Makiling is always among the favorite of mountaineers. Even so, it took some time to negotiate the trail. Its last part was a very long and winding road that will drain whatever strength you have left for the day.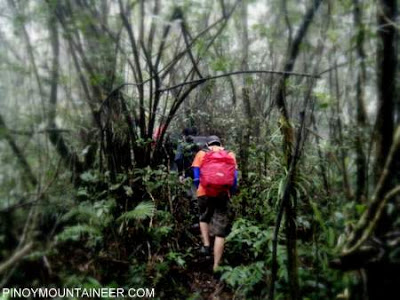 Finally, at 1800H, after ten hours of climbing, we reached UP Los Banos. Not long after, I found myself home, and browsing the pictures, I could only say to myself that I'm glad I did it. I'm glad I woke up, I'm glad I took the bus and decided to go. It was a blessed, most enjoyable Saturday. The following day I will be back for work at the hospital; but at least in between duties I managed to do something that I am really passionate about. I guess life is all about squeezing opportunity into difficulty. Even if you're in the most cliffhanger of situations, you can still eat some delicious canned bangus, climb a mountain, and have a great time!