Mountain News: Mt. Halcon still closed for the next two years — Mayor's office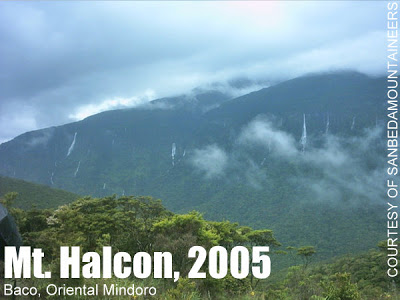 PinoyMountaineer.com learned from the Office of the Mayor in the Municipality of Baco, Oriental Mindoro that Mt. Halcon will remain officially closed until 2012. This was confirmed by our other sources in the Municipality of Baco. When I asked if special permits can be arranged from the Mayor, I was referred to the DENR. Any requests should be addressed to the PENRO of Oriental Mindoro, with the proposal copy furnished to the Office of the Mayor. I attempted to contact the PENRO but I couldn't contact him through his mobile number.
I appeal to the mountaineering clubs based in Oriental Mindoro (i.e. HALMS, Sialdang) to give us an outlook regarding Mt. Halcon. There are at least three groups claiming to have summitted, or at least climbed Halcon in 2009, please give updates as well. If Mt. Halcon still cannot be climbed, then maybe the second-highest mountain in Mindoro, the elusive Mt. Baco, will be great alternative.
The previous update on Mt. Halcon was reported in PinoyMountaineer.com on July 5, 2009. You can view this update by clicking this link.