Mt. Halcon to reopen very soon?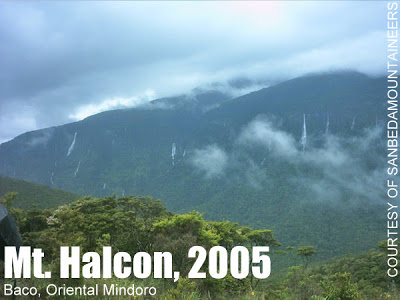 LATEST UPDATE (7/05/09 2115H) Another source from Baco, Oriental Mindoro just texted us. When asked if Halcon will reopen very soon, he said: "Posible kc matatapos na ung 2yrs ban f d me nagkakamali."
An anonymous message addressed to PinoyMountaineer.com supported a rumor that has been flying for the past few months: Halcon is being opened this year. Initially I refused to give credence to this, since I have received official word from the Municipaity of Baco and the DENR-PENRO of Oriental Mindoro that Mt. Halcon remains closed until at least 2011. However, I decided to investigate when at least one major mountaineering group in Manila has begun to include Halcon in this climb schedule this year. It means that they must really be confident that Halcon will be opened.
The email reads:
"Ser, just informing you that Halcon will be opened in a matter of months. Nagpunta ako sa Baco [jumpoff of Halcon] last week and the officials there were saying na matagal na daw nilang gustong ipabukas, source of income daw din kasi ang mga mountaineers na umaakyat. Wla naman daw problema sa DENR [yung reopening], and although may municipal ordinance that limits climbing from March hanggang May, madali lang daw malusutan yun. Ang balita, mas mahal ang fees na sisingilin nila when Halcon opens. Parang comparable sa mga binabayad sa Mt. Apo ngayon. Maybe that's the bad news, pero at least ang good news is we can climb Halcon again. Will update you ser once I have new infos about this. Tnx and more power to your site!"
The status of Halcon is muddled in mystery. In the first place, why was it closed? The alleged reason is because the mountain has become so dirty. But this is a lame excuse because not too many people actually climb Halcon and the municipality even used to organize annual Halcon climbs. Another oft-cited reason is a quarrel between two local mountaineering clubs and between mountaineers and the local Mangyans. That is why the Mangyans are said to be reluctant to agree, and they have certain rights to the mountain since it's their "ancestral domain".
Last year a 'certain mountaineering group' climbed Halcon and it is claimed that massive logging operations are going on in the mountain. Just today, my contact near the jumpoff responded to my inquiries for an update. He said that "there are many soldiers scattered in the mountain right now and there's a road being constructed from Tiboy to Halcon." Indeed, these are pieces of a puzzle that ought to be put together. As a stakeholder in Halcon, the mountaineering community deserves to know the real status of the mountain and the municipality should give a definite date when they will finally reopen this mountain.
If you have news about Halcon, let us know so we can refute or confirm these rumors. Personally, I don't believe that Halcon will reopen anytime soon. But I appreciate the inputs we've been getting and I hope to hear your thoughts and infos on this matter.