The 8th Mt. Ugo Summer Climb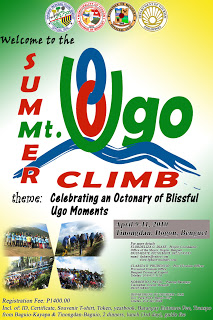 Dear Friends,
You are all invited to the 8th Mt. Ugo Summer Climb on April 9-11, 2010.
Registration fee is P1400.00 inclusive of: T-shirt, ID, Certificate, Token, Yearbook, Barangay entrance fee, transpo from Baguio-Kayapa and Tinongdan-Baguio, 2 dinners and send-off lunch (3rd day), guide fee.
For your convenience, you may deposit your registration fee at any Banco de Oro (BDO) branch. Please text me at cp#s 09105482678; 09276186078; 09223745595 for account details
Please advise through e-mail or text if you have deposited the amount and please present your deposit slip during the assembly/registration day.
Come and join the fun.
Cordially,
Liza Diase