In Memoriam: "Manong" Lee Tansiongco of Mt. Guiting-Guiting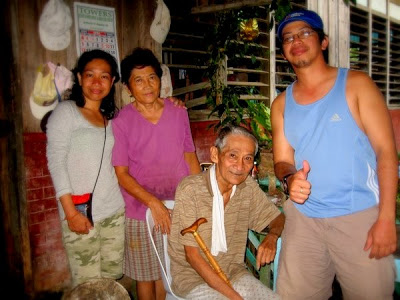 A friend of mountaineers: Manong Lee Tansiongco shown here with wife Angeling and Mayan Gutierrez and Jay Lorenzo of PALMC.
It is with much sorrow that we relay the sad news that Manong Lee of Mt. Guiting-Guiting died of heart attack last Saturday, February 20, 2010. A friend of the family texted us: "He died in the arms of Nono and wife and Auntie Angeling."
Ever gracious, Manong Lee opened his doors to mountaineers since the earliest expeditions in the 1980s. Generations of climbers have come to know him as well as his family, including his Nono, a leader of the guides who accompany climbers up G2. Indeed, a lot of mountaineers feel like "family friends" of the Tansiongcos. Even when the DENR welcome center was set up, a lot of veteran G2 hikers still consider Manong Lee's place as the definitive starting-off point of a G2 climb in Magdiwang.
PinoyMountaineer.com joins the rest of the mountaineering community in expressing condolences to the family and friends of this gracious man and patriarch of a hospitable family in Sibuyan Island, Romblon. We will Your legacy lives on with your children, and we will always remember you, even thought we are far away, and especially whenver we would be atop the jagged peaks of Mt. Guiting-Guiting.
Picture courtesy of Mayan Gutierrez, taken last April 2009.