Announcing the PinoyMountaineer Exploration Team!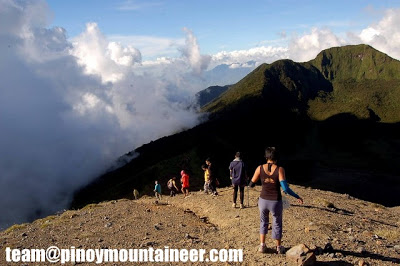 I would like to announce the formation of the PinoyMountaineer Exploration Team, to help advance our stated objective of "exploring and documenting as many of the Philippine mountains and hiking destinations as possible".
I am inviting people with a genuine passion to climb mountains and go beyond the usual destinations to join the Exploration Team. I would like the Team to be a closely-knit group of climbers from all walks of life.
In line with the concept of being a "team" each member will receive a personalized shirt with his own number of choice (i.e. 37), as well as personalized email address (i.g. jacob@pinoymountaineer.com). There will be monthly meetings in Manila to discuss exploration possibilities and other prospective climbing venues, and team members will have the opportunity to join various climbs around the country. Take note, however, that this is not a mountaineering club; you can have your mountaineering club and join the Exploration Team.
There is no fixed requirement for membership, but there are limited slots. Applicants will be selected on the basis of their mountaineering profile, attitude, and dedication to join.
Application for the team starts now. If you are highly interested, email team@pinoymountaineer.com with the following details:
COMPLETE NAME:
AGE AND SEX:
ADDRESS:
CONTACT NUMBER:
OCCUPATION:
AFFILATION/S:
MOUNTAINEERING PROFILE:
HOBBIES/INTERESTS:
REASON FOR JOINING: