Mt. Lanaya (720+) in Alegria, Cebu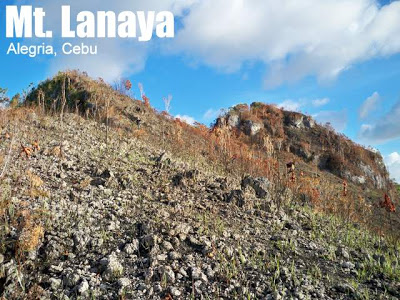 MT. LANAYA
Alegria, Cebu
Entry point: poblacion Alegria (highway)/Brgy. Legaspi (foot)
Exit point: Brgy. Lumpan
LLA: 9°42'N, 123°21'E (inexact), 720 MASL
Days required/Hours to summit: 1-2 days; 4-5 hours
Specs: Minor, Exploration, Difficulty 6/9, Trail class 2-3
The original article for this itinerary was writen by Shimero Jainga of Ewit Mountaineering Group. PinoyMountaineer.com thanks him and his club for this invaluable contribution.
BACKGROUND
While the peaceful municipality of Alegria, Cebu boasts of some fine beaches, waterfalls, and hot spring attractions, it has been relatively quiet about a major mountaineering destination unbeknownst to many climbers.
Towering around 700 masl, Mt. Lanaya stands almost at a stark contrast to the surrounding mountain ranges near it. The mountain is defined by forest-covered, knife-edge slopes facing the west, on to the Tañon Strait. From the national highway, one can already see its peak composed of a rock formation the locals call Kalo-kalo Peak. It also nearly hugs the coastline, which is perfect for beachineering activities at a later portion of a trip.
Mt. Lanaya is just a hundred meters away from the main poblacion of Alegria and accessible via a short trail from the main road. In order to get there, climbers have to board a southward bus — usually going to Bato, Samboan — at the South Bus Terminal of Cebu City. You can tell the driver to stop at the entrance to Brgy. Legaspi just after the steel bridge. Spend breakfast in one of their mini-marketplaces around the area, or meet up with the guides. Before going to the foot of the mountain however, climbers must make sure their water supplies are secure, since there are no water sources anywhere on the mountain (save for a distant one in the backdoor trail). A total of 3-5 liters of water are recommended on a hot day.
THE TRAIL
The infamous Legaspi trail starts after a sizeable distance of walking in the countryside dirt road. This trail has no comfortable descents; all of it is a steep incline, since it rides a narrow ridge of the mountain. The angle of ascent throughout the trail averages 50-60°. The initial leg is the most striking — and potentially dangerous: it is covered with loose stone, soil, and rocks which makes a climber slide down more often when not assisted by ropes. During dry season when the ground below is not held together by moisture, the rocks are looser, making assaults awfully difficult and taxing. A climber needs to be very vigilant of his/her water supplies, as the resultant factors, plus the exposed terrain and the blazing sun, will surely zap the energy of any mountaineer.
Successful climbing without the aid of ropes is possible, but not recommended. Shrub roots and solidly-planted stones should be exploited to gain mileage on this hazardous landscape.
Fortunately, the majority of the trail features landscape for secure footing, although it is still unforgiving in its steepness. The path is heavily intertwined with adjoining branches, and as such, it is better to bring smaller backpacks so as not to get entangled with them. At the last quarter of the trail, there is a 90-degree cliff-like obstacle that allows a very small margin of error. Only one climber at a time can climb through the huge rock safely, as behind the rock face a steep drop-off exists. Ropes are again indispensable at this point of the trip.
If you have the stomach for it though, you can look back and gaze into the Tañon Strait through a clearing.
After a good 20 minutes or so of assault, climbers can finally break through the summit clearing and move on towards Kalo-kalo Peak. The stone structure is dotted with plants, and climbers must take care in scrambling up the rock because there is limited space. For a 700-meter mountain, the view from the top is extremely rewarding. During clear mornings, try to look for a hint of your shadow cast onto the expansive Tañon Strait.
For small groups, there is a suitable campsite beneath the summit area, and for larger groups, they can trek down below the forest line to set up camp on level, greener pastures.
ITINERARY
(From Cebu City)
Day 1
0400 Gather at South Bus Terminal, Cebu City
0500 off to Alegria
0900 arrival at Alegria, breakfast, food/water gathering
1000 start trek via Legaspi trail
1200 lunch @ trail
1700 arrival at summit area
1800 arrival at base camp, pitch tent
1900 dinner & socials
Day 2
0500 wakeup call, breakfast
0630 optional or return ascent to Kalo-kalo Peak
0800 break camp, off to Brgy. Lumpan
0900 Lumpan junction, ride habal2x to Alegria proper
1000 Alegria, lunch, beachineering, side trips, etc.
SPECIAL CONCERNS
* Water is an immediate concern once you begin climbing the peak. There are no water sources above; only at the nearest house in the Lumpan trail going out.
* With the above itinerary, it is quite possible to bring meals ready-to-eat (MREs), even for breakfast. This will save the climber from carrying heavier loads.
* Ropes, ropes, ropes. Having these will make it a whole lot easier for your group to go up the aforementioned obstacle courses.
Climbers at the summit of Mt. Lanaya in Alegria, Cebu
TRIVIA
* Locals believe the mountain to be an extinct volcano. The author was fairly skeptical of this at first, but seeing as how the summit area forms a shallow caldera, and ascertaining the existence of a few hot springs around the mountain range, this belief couldn't be far-fetched after all.
* Original trailblazing of the Legaspi trail on Mt. Lanaya has been generally attributed to Geoffrey Ybas, also resident of poblacion Alegria. Since then, there have been a few other mountaineering groups making exploratory climbs in the past several years, with the Ewit Mountaineering Group's foray this year being the latest in mind.
* From Kalo-kalo Peak, a mountaineer can take a glimpse of Osmeña Peak from the north, Mt. Kanlaon from the northwest in Negros Island, and Mt. Talinis located at the south of Negros.
* The Lumpan trail, from where we made our exit, has a completely different character than that of the Legaspi trail. It requires only a habal2x ride to Brgy. Lumpan, and a brisk hour-and-a-half hike to the campsite proper. If you want to get onto Kalo-kalo Peak quickly, take this executive trail.
Pictures are courtesy of Shimero Jainga of Ewit Mountaineering Group