Destination Cam Norte: Mt. Labo on February 20-22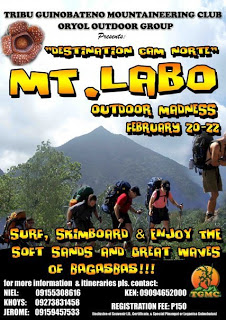 The slew of open climbs continues, this time in Mt. Labo in Camarines Norte, Bicol Region with "Destination Cam Norte: Mt. Labo / Outdoor Madness" scheduled from February 20-22 and organized by Tribu Guinobateno Mountaineering Club and Oryol Outdoor Group.
Registration Fee is only P150 (Inclusive of Souvenir I.D., Certificate, & Special Pinangat (laing bikol) or
Longanisa Guinobatan)
The itinerary is as follows:
Day 1 (February 20)
0700 Assembly / Orientation
0900 ETA at jumpoff
0930 Start trekking to Spillway (Old PNOC Road)
1200 Lunch at Spillway
1300 Start trekking to Campsite A
1800 ETA Campsite A / Set up camp
1900 Dinner / socials
.
Day 2 (February 21)
0600 Breakfast
0700 Start assault to Mt. Labo
1000 ETA summit of Mt. Labo
1030 Head back to Campsite A
1130 Lunch / Angelina Falls sidetrip
1500 Back to Campsite A
1800 Dinner / socials
Day 3 (February 22)
0600 Wake up call
0800 Start descent back to jumpoff
1200 Lunch at spillway
1500 Back at Km. 00; Prepare to board bus back to Manila
For interested Manila-based parties, contact Ken at O9394652000 or email chameleonprints@rocketmail.com.