Hiking maters #79: Behold, Tirad Peak!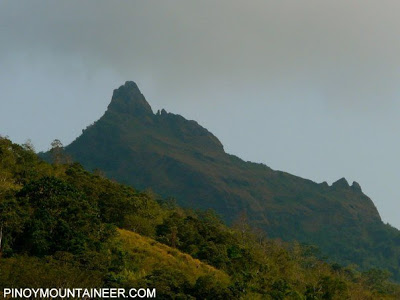 I am pleased to announce that the 2nd Annual Charity Climb on Tirad Pass also became the first major climb up the hitherto undocumented Tirad Peak, which we now know is 1388 MASL. On February 7, 2010 at around 0830H we reached the summit of the rocky peak, covered with golden grass, reminiscent of both Batulao and Pico de Loro, but far grander. A total of 38 climbers joined the assault.
This exploratory effort, made possible by the Municipality of Gregorio del Pilar whose tourism officers were very helpful, was the highlight of Day 2 of the 2nd Charity Climb. From the Tirad Pass Shrine where we had camped, we woke up very early to start the assault and nighttreked a substantial portion of the trail. It was, however, quite easy, with no significantly steep parts. But when the peak was finally at hand we were shocked by its suddenly imposing rise – a huge rock, pointing upwards, living up to its name 'Tirad', meaning sharp. Indeed this part of the trail was quite precarious: only 5-10 climbers at a time could ascend or descend from the very peak. And the ravines on both sides were deep.
Yet the rewards were truly grand, and the views unforgettable. I will write another blog post about the Charity Climb soon. In the meanwhile, let the pictures speak louder than my words. But before I end this post I would like to thank all the participants of this year's Charity Climb. See you all in the trails! TIrad Pass, TIrad Peak, and all of you have made this climb a very special one.
PS: 1st and 2nd Charity Climb participants, please join the Charity Climb group on Facebook! Pictures of climbs and announcements will be posted there. Pictures in this post are courtesy of Lalaine Hablado and Sir Martin Cortes. Thanks!