SABIT Mountaineers' 32nd KaSABIT climb: Bakun Trio!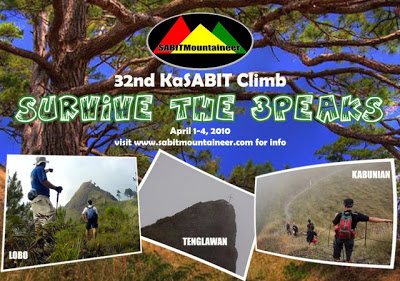 Our friends from SABIT Mountaineer are doing their 32nd KaSABIT climb in Bakun – with the veritable triumvirate of Lubo, Tenglawan, and Kabunian as their targets this April 1-4, 2010. True to their name, the group is inviting everyone to 'make sabit' and join this very nice Cordillera adventure.
Considering that the fee of P2,500 is already inclusive of roundtrip bus transportation to and from Manila, the rate is very mountaineer-friendly. Pre Climb meeting on March 17, 2010 at EDSA Shangri-La foodcourt 7:00pm. Contact is Jay Hernandez, team leader. His contact numbers are 0927-8745864 and 0922-8745864.
Information in this post was provided by the organizers of the aforementioned activity. See the PinoyMountaineer.com Terms of Use regarding events and other posts from third-party sources.