Kalinga Katutubo 2010: Cordillera outreach and Pulag climb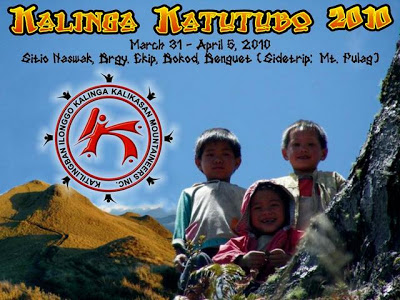 Mountaineers are invited to attend the inauguration of the Naswak Elementary School Integrated Learning Center Project (Beneficiary: Kalanguya Tribe of Naswak, Benguet). This event is an opportunity for mountaineers to interact with the Kalanguya children, as well as give donations like books, school supplies, and other reading materials for the Learning Center which will be highly appreciated.
Aside from the visit to the Kalanguya village, there will be a sidetrip to Mt. Pulag which by itself is reason to go to the Cordilleras. This event, dubbed "Kalinga Katutubo 2010" will run from March 31 – April 5, 2010.
Registration is FREE with event ID and certificate. Estimated budget: Php3000-3500. Please confirm your participation no later than March 25, 2010.
For details and registration, please contact:
Migo Loyd – 09228211474 or 09063211474 email: earthstone_03@yahoo.com
July Tadifa – 09168281639