Mt. Bromo in East Java: My 24th Birthday Climb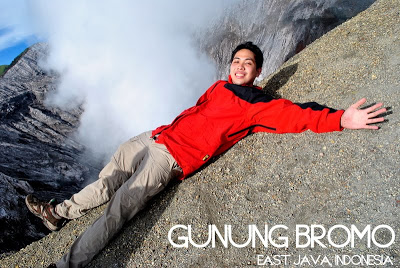 YOGYAKARTA, INDONESIA – Finally I can relax here in the mountainous retreat town of Kaliurang, just north of Yogyakarta in Central Java, after trekking in two breathtaking destinations, the first being Gunung Bromo in East Java – perhaps the most famous volcanic destination in all of Indonesia. It is just an easy climb, but the breathtaking views of the Gunung Bromo-Tengger-Semeru National Park made it a worthy venue of my birthday climb. In the picture, I am lying at the very edge of the crater of Mt. Bromo – one of the most active volcanoes in Indonesia.
The food here is very cheap and delicious, and with the very low prices of commodities like oil and sugar, the standard of living is in general very cheap and affordable. That's why I'm thinking that Indonesia may be a new frontier for Filipino mountaineers to explore. There are many volcanoes here, foremost of which is Mt. Semeru, at an impressive 3676 MASL. Unfortunately it is not safe for trekking at the moment. Then there are many others like Mt. Raung (3332 MASL), Mt. Lawu (3150 MASL), and beyond Java there is Gunung Rinjani at a very impressive 3702 MASL! The list is dizzying and so are the views.
Then of course there are the cultural monuments which we visited today, Borobodur and Prambanan. I will write about them, as well as other volcanoes that we visited (and plan to visit) here in Indonesia. I just took this time to share the wonderful experience, as well as thank everyone, especially the mountaineers, who greeted me in my 24th birthday. My companions Del, Julian, Bianca, and Coby send their greetings as well. I haven't had the time to check my Facebook. Will post more pictures later!