SEAIR 15th Anniversary Promo offers Batanes seat sale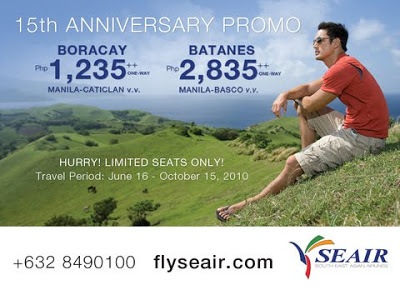 SEAIR is my favorite airline because its small, low-flying planes enable views of our mountains in a very unique way. When going to Batanes, one of the most spectacular views is the golden peak of Mt. Pulag amid the blue ranges of the Cordilleras. This was a most memorable sight for me. The efficiency of the airline and its dedication to servicing pristine destinations in the Philippines is most commendable.
In celebration of its 15th year, SEAIR is offering Batanes tickets for just 2835 pesos! Batanes of course is home to several mountains of interest, such as Mt. Iraya and Mt. Matarem, Valungid Hill in Sabtang, as well as the elusive northernmost peak of the country, Di'nem Island. These destinations are featured in PinoyMountaineer.com. Boracay is also on sale in SEAIR.
Visit
http://flyseair.com
or call +632 8490100 for bookings and for more details about this promo.