Mt. Apo's Kidapawan Trail now open / 2nd Mt. Apo Sembreak Climb to be held Oct 22-25!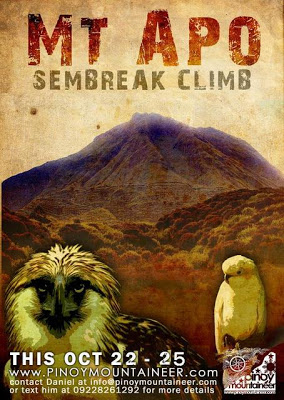 We have been informed that the Kidapawan Trail has reopened; thus at the moment Mt. Apo is now open on all trails.
A Mt. Apo Traverse is once again possible from Kapatagan to Kidapawan, or vice versa. We are pleased to announce that the 2nd Mt. Apo Sembreak Climb will push through on October 22-25, 2010. Like the first Mt. Apo Sembreak Climb, this will be a traverse involving the Kapatagan and Kidapawan trails.
We are making an early announcement for this trip so people can book flights early and hopefully get discounted airfares from seat sales.
PinoyMountaineer.com is calling for participants in this annual activity that celebrates the beauty of the country's highest mountain. Everyone's invited, but those who are seriously considering to join are advised to sign up early because slots are limited.
Training climbs will be organized for participants, and a general assembly will be held in September at ROX Philippines (exact date TBA).
For inquiries and reservation, we have a dedicated email address, apo@pinoymountaineer.com.