Mt. Banahaw (2,158+) [CLOSED]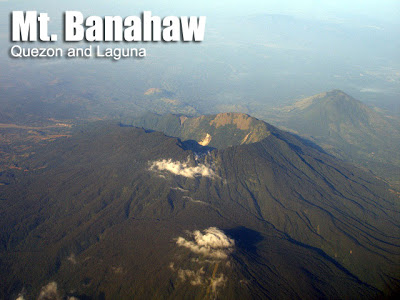 Mt. Banahaw
Quezon Province
Major jump-off: Brgy. Kinabuhayan, Dolores
Elevation: 2158 MASL
Days required /Hours to summit: Level 2-3 days / 6-7 hours
Specs: Major climb, Difficulty 5/9, Trail class 3
NOTE: Mt. Banahaw is still closed for climbing as of August 2016 and is not expected to reopen soon. PinoyMountaineer strongly discourages climbing in mountains that are officially closed.BACKGROUND
Mt. Banahaw is the grandest of the Southern Tagalog mountains. Towering high over the provinces of Laguna and Quezon, its significance in religion and folklore makes it not only a physical, but also a cultural landmark. It is home to Rizalistas and other cults, some of whom believe the mountain as the "New Jerusalem". To a wider populace, it is a sacred mountain, visited every Holy Week by devotees, some of whom made it a pledge to regularly climb Banahaw. Thus it is not surprising that places in the mountain have religious names, such as "Kweba ng Dios Ama" (Cave of the God the Father) and "Kalbaryo" (Calvary). At its foot village of Kinabuhayan, all sorts of amulets, magical stones, and healing herbs are peddled, together with souvenir shirts.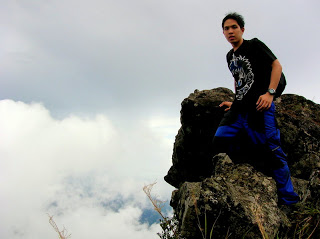 Meanwhile, many residents of San Pablo City and nearby towns, especially the males, climb it as a rite of manhood or a teenage adventure. For their part, for Manila-based mountaineers it is the Level 3 climb closest to home. Aside from the challenging, 2-3 day trek, there are waterfalls, pools, and caves to explore. One famous cave is "Husgado", which is so tortuous and narrow that it is said that evil persons will not be able to come out of it.
This immense attention on Banahaw forced authorities to suspend all hiking activities in Banahaw starting 2004. Its trails have become littered with trash, to a point that being at Banahaw's peak, called Durungawan, has been likened to "being in a market". As of Nov. 2007, however, the trails have regenerated and Mt. Banahaw is very clean now. Cultists, devotees, and covertly, even mountaineers continue to climb the mountain. Locals complain that the hiking ban took away a major source of livelihood.
The status of Mt. Banahaw is still closed. For more information, see the latest posts in PinoyMountaineer including this update.
ITINERARY(2-day Cristalino-Tatlong Tangke)
Day 1
0400 ETD Lucena-bound bus from Mania; alight at San Pablo (P124)
0630 ETA San Pablo highway, take jeep to jump-off (P400/jeep)
0700 ETA Brgy. Kinabuhayan, Dolores, Quezon
0800 Start trek. Will pass by Cristalino Falls.
0930 ETA Kweba ng Dios Ama
1200 lunch along the trail
1330 ETA tall cave (Kweba ng Espiritu Santo?)
1600 Approach Durungawan 1 (first peak); set camp below
1630 Explore peak area
1730 Retire to campsite; dinner
Day 2
0700 Explore Durungawan 2-3; beware that trails are steep
0900 start descent via Tatlong Tangke route (fork after the forest)
1130 ETA Kapatagan
1215 ETA Tatlong Tangke. You may bathe here, and have lunch.
1430 ETA Kinabuhayan; take jeep to San Pablo
1600 Back in San Pan Pablo; take bus back to Manila
SPECIAL CONCERNS
Hiking in Banahaw is currently forbidden; do not use this information to make an unofficial, illegal climb. Instead, you may explore the two other peaks of the Banahaw trilogy, namely Mt. Banahaw de Lucban and Mt. Cristobal. Both are challenging climbs, worthy of the Banahaw experience.
There are numerous religious and natural points of interest in Banahaw. This is why it is ideal to hire a guide, so that you can learn more about the mountain. If you have time, ask your guide to take you to the places of your choice.
TRIVIA
Banahaw is actually an inactive volcano; its caldera, known as 'Ilalim', is one of the views you will see at the peak. This rarely-visited caldera is part of a traverse trail from Dolores to Sariaya, passing by the Durungawan III and descending to this caldera. Parts of this traverse are said to be so beautiful that they are described as "a paradise".
The last recorded eruption was at 1721.
At the height of its popularity in 2003, Close to a thousand people climbed Mt. Banahaw during Holy Week. Coke and Sprite, in cans, were sold at the peak for P50. A large pack of Piatos chips sold for a similar amount.
CLIMBS IN THE BANAHAW COMPLEX
Mt. Banahaw
Mt. Banahaw de Lucban
Mt. Cristobal
Tayak Hill