Gear Review: Deuter Dreamlite 500 sleeping bag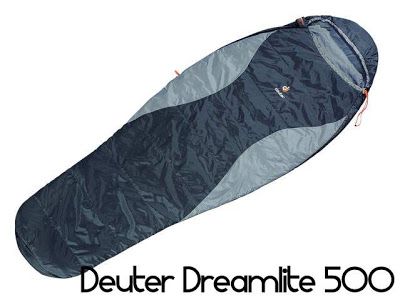 Gear review by Cecil Morella (AMCI)
Equipment Adviser, PinoyMountaineer.com
PinoyMountaineer.com is honored to have Sir Cecil Morella of AMCI as its equipment adviser starting May 2009, providing insights on camping gear and equipment in the website's "Climb Gear" section.
Are you left-handed or right-handed? Do you sleep on your side? These seem to be key considerations in Deuter's warm-weather sleeping bag offering, the DreamLite 500. The mummy-shaped bag is one of the lightest, if not the lightest, offering available on local shops, but also among the most expensive. It comes with a hood and is offered only in one colour combination, ash/anthracite, but you may either buy one with a zipper opening on the left or on the right side.
I have been testing the bag on both high-altitude climbs as well as lower peaks below 1,000 metres above sea level and it has been useful in both environments. I usually need a sleeping bag over baselayer, fleece and shell when under a tent after midnight above 2,000masl, and even though this one is rated at 40-60 degrees Fahrenheit (5-15 degrees Celsius) and temperatures can dip to single-digits at some Philippine mountaintops after sundown, I had not found the need for a bulkier, heavier bag. Of course it must be emphasised that this bag is no substitute for layering clothing to fight the cold.
At lower elevations a plain earth pad and baselayer clothing would do for me, unless it rains in which case my legs would run for cover and I use the sleeping bag as a conventional blanket, with its side opening fully unzipped to the foot. DreamLite weighs just half a kilogram — roughly the weight of a fleece jacket — with three thin layers of protection: minimal synthetic polydown fill, nylon taffeta lining and ripstop nylon shell. Because the fabric is so thin it packs down to less than the size of a Nalgene litre bottle. This bag is basically waterproof, at least at the foot section which might frequently come in contact with the tent wall if you are tall or have a small tent.
It works best for people who stand below six feet tall — most Filipinos — and the torso area is a generous 30 inches across. The mummy shape forces your feet together, which is their common, reflex reaction to cold weather. Make sure to rinse the bag with tap water and air-dry it every time you get back from a climb.
Bottomline is, is it worth it? Well, for the price of two you can buy a good, locally made tadpole-style backpacking tent. I would not mind having one, but if you are working on a shoestring budget there is a big, 25-peso clear plastic bag sold at the local wet markets that would keep your legs dry and warm just as well.