Powering up your climb with Powerade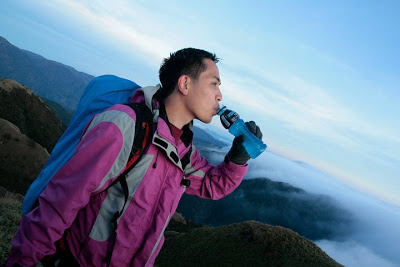 My final climb of 2010 was an action-packed three-day traverse of Mt. Pulag, Luzon's highest peak. We left Manila for Benguet on the evening of December 27. Three challenges confronted my team: First, we had to negotiate the "Killer" Akiki Trail in just one day, instead of a more relaxing two days. Second, we would be descending via the longest trail, the Ambaguio Trail, which was over 23 kilometers long! Finally, we were combining two difficult trails – an Akiki-Ambaguio Traverse – instead of the usual 1 difficult + 1 easy trail (i.e. Akiki-Ambangeg). Truly a worthy yearend trip!
As the team leader of the climb, and as a medical doctor, I was aware of the need for climb hydration especially during the ascent. Although dehydration can happen, I was more worried with cramps and fatigue which can delay our climb. The success of our plan depended on the success of the first day. We must reach the summit on Day 1! Yet that way involves trekking the entire Akiki Trail, with an almost-continuous steep ascent across eight kilometers. Add sun exposure to the equation and you will have even more water and mineral losses. That is why I always bring sports drinks like Powerade during each climb – and I recommend it to my team members as well.
Each bottle of Powerade, for instance, aside from containing 500 mL of water, has over 150 calories. It has the essential electrolytes: 138mg Sodium, 70mg Potassium. (It is not essential to know exact proportions; it suffices to say that our bodies need these minerals during strenuous activities). There is also some Vitamin C and Iron. To overcome fatigue, it also has calories, which are very important in a hike to sustain energy (together with energy bars or other trail food).
We started the assault up Akiki Trail at 1100H on December 28. Still with full energy, we reached Eddet River campsite, the first landmark, in just over an hour and we stopped there for lunch.
However, beyond Eddet, confronted with endless steep slopes, some members of our team began to feel cramps on both legs. At one point I myself had some beginning cramps on my right thigh. I told them to take a slower pace, do intermittent rests, and gulp some energy drink. I brought 2 L worth of Powerade bottles and I gave out some to my teammates, who appreciated the energy boost.
There are many strategies to prevent cramps and continuous training is still the best way to perform better in the trails but proper hydration is always an essential component. Of course, it helps a lot if your hydration is quite delicious and refreshing – my personal favorites are the Powerade Berry Ice and the Powerade Mountain Blast.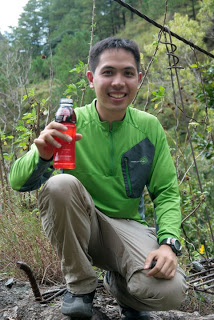 We were able to push forward. By 1700H we reached Marlboro country, so named because of the grazing cattle and vast . Pine woodlands turned into mossy forests, which in turn gave way to Pulag's unique summit cover of dwarf bamboo. Higher and colder we reached, with elevations registering up to over 2800 meters above sea level in my altimeter. By 2010H, we made it! We arrived at the saddle campsite which was endpoint of the Akiki Trail.
The plan was a success! With Akiki negotiated in one day, we can confidently perform the traverse of Ambaguio without compromising our New Year's Eve celebrations with our families. And true enough, by 0400H of December 31, 2010 we were all back in Manila. Of course, Ambaguio Trail also presented itself with its own challenges, but that's another story!
It is always nice to embark on a hiking challenge, step-up your game, and beat your personal best. To boost your confidence and energy during the climb, particularly to prevent leg cramping, dehydration, and fatigue, always consider bringing sports drinks like Powerade whenever you go for a hike. You'll be surprised how it can help you keep going!