Hiking matters #121: The Mt. Kalawitan correspondences and how I got to climb this beautiful mountain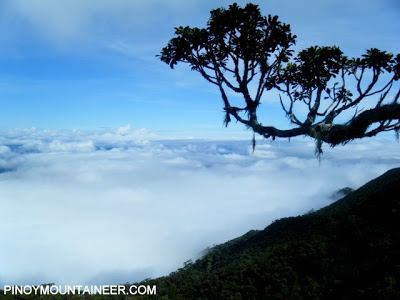 I climb a mountain more than twice a month on the average, but actually, everyday I do some form of "mountaineering" – that is, by corresponding with hikers from all over, in order to expand and share our knowledge of various mountains. Through these correspondences, I have been able to learn a lot, and thus I have been able to share what I know as well.
"…I also have a list of RP's top 10 highest peaks. I did it when I designed the training climb schedule for the 1st Philippine Mt. Everest Team. We climbed some of those in your list. But I am not seeing a certain mountain in Cordillera which I believe should also be in your list. It may not necessarily be in the top 10 but I know its higher than Napulawan and within the range of Mt. Kapiligan."
This email aroused my interest, and further correspondence with Regie revealed the name of the mountain to be a "Calawitan". At around the same time, the late Jay Lorenzo of PALMC likewise expressed interest in the mountain:
"Im Jay Lorenzo Of PALMC…I am going to climb Mt. Calauit in Sabang,Mt.Province and the reading on the topo map is 2714 mtrs. If that is so then it will be the 10th highest next only to Mt. Sinagkalsa in Kabayan,Benguet."
Another email from a another respected mountaineer means that there this mountain must really be something! However, my further inquiries on the matter revealed that the mountain trails are laden with hunter traps (to catch wild boar and deer) and it might be dangerous to climb this mountain. So I let it pass.
While I was hiking in Indonesia, Alejo Terrence Tabur emailed me:
Sir, I just want to endorse a climb at Mt. Kalawitan (2714MASL), Sabangan, Mt. Province. Maybe you've been there already. Its not actually and endorsement because I have not been there yet. But anyway, climbs are organized by the Social Action Development, Center of the Vicariate Bontoc-Lagawe; Bethlehem Mission Immensee; Tourism Mt. Province and recommended for birdwatching by the HARIBON Foundation as it all says in their pamphlet which I have attached.
For some reason I wasn't able to pay much attention to this email; probably also because the Physician Licensure Exam was approaching and I didn't have time for mountains.
Finally, Rolf Boller in January 4, 2011, emailed me:
Please add Mt. Kalawitan 2714 m, Municipality of Sabangan, Mountain Province, Philippines in your peak lists. After years of beeing closed to any outsiders, only local hunters went up there some times, it is now open for mountaineers since May 2010.
Rolf, who turned out to be a Swiss volunteer who has helped mobilize and organize the establishment of Mt. Kalawitan, including guides and a campsite and I immediately told him that I want to climb Mt. Kalawitan as soon as possible!
From January 10-12, I climbed Mt. Kalawitan, and immediately after the climb, on the evening of January 12, I inscribed Mt. Kalawitan in PinoyMountaineer:
MT. KALAWITAN
Sabangan, Mt. Province
Major jumpoff: Panorama Viewpoint, Halsema Hwy, Sabangan
LLA: 2714 MASL (#10/n)
Days required / Hours to summit: 2-3* days / 6-7 hours
Specs: Major, Difficulty 5/9, Trail class 2-4
Since the locals spell it "Kalawitan", PinoyMountaineer is preferring the usage of it instead of "Calauitan", "Kalawit", "Calawitan", or "Calauit" in referring to the mountain. You can view the entire itinerary (including contact information) in
Mt. Kalawitan (2,714+)
.
This is the story of my discovery of Mt. Kalawitan, and I hope this will also be the beginning of yours! This mountain is such a beautiful and promising place and I am sure you will not regret exploring this and visiting the captivating town of Sabangan.
If you have a mountain that you would like to share, do not hesitate to email me at gideon@pinoymountaineer.com!