Mt. Pullol (1,400+) in Ambaguio, Nueva Vizcaya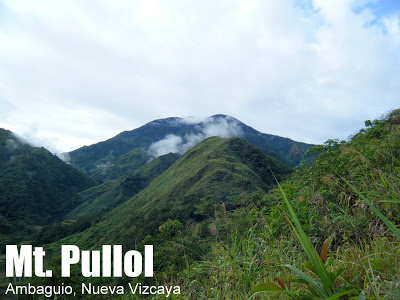 MT. PULLOL
Ambaguio, Nueva Vizcaya
Major jumpoff: Wangwang Junction, Ambaguio
LLA: 1400 MASL (est.)
Days required / Hours to summit: 1 day / 3-4 hours
Specs: Minor climb, Difficulty 4/9, Trail Class 3
Features: Forests, Views of Mt. Pulag's East Face
BACKGROUND
This is a conjectural article using primary sources in the field, based on interviews of locals of Ambaguio, Nueva Vizcaya as my teammates and I were crossing over from an Akiki-Ambaguio Traverse of Mt. Pulag on December 30, 2010. The only other written document on Mt. Pullol, it seems, comes from a Lonely Planet one-liner which says that it is a "six hour hike from Ambaguio…from where there are excellent views of Mt. Pulag."
Locals of Ambaguio, on the distal side of the Bukig River, say that the path is forested, and the the summit offers views of Mt. Pulag, Napo Village, the Poblacion of Ambaguio, Bukig River, and surrounding towns including Tinoc, Ifugao. If so, it would indeed offer a nice view of the eastern face of Luzon's highest peak.
Finally, Ambaguio being predominantly Kalanguya in ethnicity, a Mt. Pullol hike will enable the hiker to see Kalanguya villages. Hanging bridges are part of everyday life and serves as unique challenges to hikers. The trails, being used by the villagers as part of their daily routine, are well-established.
The special value of Mt. Pullol stems from the opportunity to dayhike it as part of an Akiki-Ambaguio Traverse, which will then be a Mt. Pulag (Akiki-Napo-Mt. Pullol-Ambaguio) Traverse. Alternatively, hikers, having completed the Mt, Pulag Traverse, can stay in Ambaguio and do a backtrail Mt. Pullol from the conventional path from the Poblacion.
ITINERARIES
As a Distinct Hike
0600 From Bayombong, take habal-habal to Wang-Wang Junction
0700 Get a guide to Brgy. Salingsingan
0900 ETA Salingsingan Village
1030 ETA Summit of Mt. Pullol
1200 Head back to Poblacion
1430 ETA Poblacion; Get transportation to Bayombong
1600 ETA Bayombong
As part of the Mt. Pulag Traverse:
(Day 3)
0600 Commence descent from Napo Valley
0730 ETA Sitio Bukig; Get guide to Salingsingan Village
0930 Arrival at Salingsingan Village; Start trek up Pullol
1130 ETA Summit of Mt. Pullol
1200 Commence Traverse to Poblacion
1430 ETA Poblacion; Get transportation to Bayombong
1600 ETA Bayombong
SPECIAL CONCERNS
Logistics. It may be possible to contact someone near the junction leading to Ambaguio town along the National Highway in Bayombong (near Highlander Hotel) to arrange for transportation to Ambaguio. A fair price for a trip to Wangwang Junction costs P100-P150/motorcycle. From the junction (or from the Poblacion), you may ask for guides for Mt. Pullol. If this will prove difficult, it would be better to ask for a guide to Brgy. Salingsingan (P300 is a fair price) then from Brgy. Salingsingan, ask for another guide to take you to Mt. Pullol.
Hiking notes. We have not determined the presence of campsites in the mountain, though Brgy. Salingsingan would have water sources and basic facilities. If combining Mt. Pullol with a Pulag Traverse, you may have to get another guide from Sitio Bukig.
TRIVIA
A Mt. Pullol Forest Development Project was once launched to conserve the forests of the mountain.