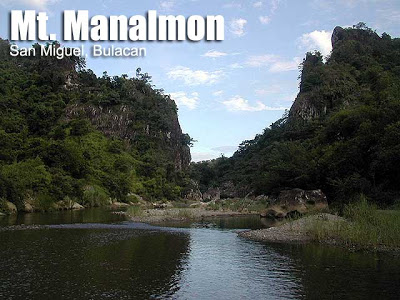 MT. MANALMON
San Miguel, Bulacan
Major jump-off: Sitio Madlum, Brgy. Sibul, San Miguel
LLA: 15°15.11'N; 121°1.22′ E; 196 MASL
Days required / Hours to summit: Half-day / 1 hour
Specs: Minor climb, Difficulty 2/9, Trail class 1-2
BACKGROUND
Part of the historical Biak-na-Bato National Park is an outdoor destination called Mt. Manalmon, in San Miguel, Bulacan. Although merely a hill, strictly speaking, Mt. Manalmon possesses novel landscapes, including those of Madlum River, whose rock formations compensate for an otherwise unremarkable environ. Also, nearby sites such as the Bayukbok Caves (a 2-hr exploration from the River) and Madlum cave (historical due to an 18th century relic) can be coupled with a trip to Mt. Manalmon to maximize the Biak-na-Bato experience. Also, complementing Mt. Manalmon is another elevated ground called Mt. Gola; instead of turning right at the bifurcation, going left would lead to this peak, which is also a good vantage point.
Reaching Manalmon is commenced by taking a bus to Cabanatuan, and then alighting at Brgy. Kamias, San Miguel, Bulacan. From here, a tricycle ride can take you to the jump-off at Brgy. Madlum. From here, the entire trek only lasts for 2 hours. You will first pass through the Madlum cave (also called Manalmon cave); and then the rest of the trail would be passing through / crossing the Madlum River; this is the higlight of the trek. Camping may be done either after the river, or within the summit area. At the peak of Mt. Manalmon, you can see the Sierra Madre range to the east; and Mt. Arayat to the north. Still, it will be the rocky formations, the river, and the caves that will make Manalmon a memorable adventure.
ITINERARY
0500 From Cubao or Pasay; take Cabanatuan-bound bus
0730 ETA Brgy. Kamias, San Miguel; take tricycle to jump-off
0800 Arrive at jump-off; register and get guides at community
0900 Start trek
1030 ETA summit of Mt. Manalmon; take pictures
1100 Start descent
1200 Back at community; lunch
1300 Visit Madlum and Bayukbok Caves
1530 Swim at Madlum river
1700 Back at jump-off; proceed back to Brgy. Kamias
1740 Take bus back to Manila
PRACTICALITIES: MT. MANALMON
Transportation

Public Take any Cabanatuan-bound bus from Cubao or Pasay (Baliwag Transit, ES Transport, and Five Star Transport). Tell the conductor to drop you off at Brgy. Sibul, San Miguel, Bulacan. Fare is around P130. Then from Brgy. Kamias, you can take a tricycle to jumpoff at Brgy Madlum (P200/tricycle, max 4 persons). This trike trip takes 40 minutes.
Private (1) NLEX, take the Sta. Rita exit; (2) Follow the road to Cagayan Valley, passing by Plaridel,Pulilan, Baliuag, San Rafael and San Ildefonso. (3) At San Miguel, ask directions for Brgy. Madlum – which is 30 minutes away.

Registration

Logbook at trailhead; total fees – P40 including entering the Cave, rafting fee, registration fee

Guides are required; P300/up to 5 persons

Tata Carling (Coordinator) – 09195746470
Other numbers: Cecille – 0907779667; Winter – 09193089503

Campsites

Near the summit or after the river

Water sources

Near the trailhead; none at the summit campsite

Cellphone signal

Present throughout the trail

River crossings

None; one takes a raft through the initial river

Roped segments

None

None

None

Rattan

None

Hiking notes

Exercise caution while crossing Melkas Ridge; trails in LB are wide and marked with station numbers; backtrack if trail doesn't fit this description.

Sidetrips

Bayukbok Caves; Victoria Cave; other peaks and historical sites in Biak-na-Bato and Bulacan in general

Alternate trails

Mt. Gola can also done as an extra peak; add an additional 30 minutes to 1 hour to the hike

Yes (1-2 hours to summit; 1 hour down)
MT. MANALMON PICTURES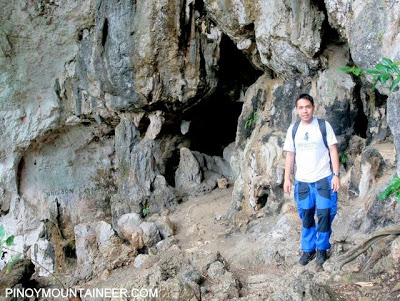 A brief section of Madlum Cave forms part of the initial trail.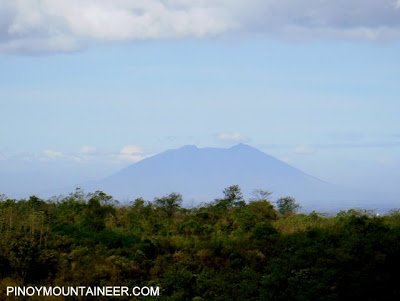 Mt. Arayat looms northwest, majestically. View from Manalmon summit.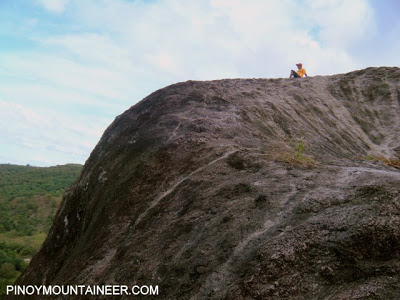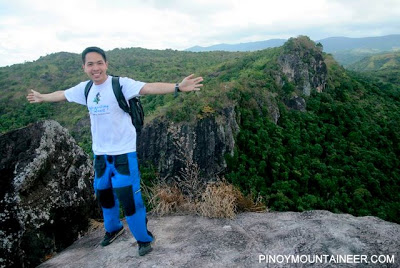 Atop Manalmon, with the rock formations of Mt. Gola at the background.
TRIVIA
Scenes from GMA-7's "Mulawin" were filmed in the trails of Mt. Manalmon, including the caves.
Revolutionaries such as Emilio Aguinaldo took refuge in the caves of Biak-na-Bato to hide from the Spaniards. He even made it his headquarters in 1897; the intricate system of caverns faciliated his safety. It is estimated that there are over 100 caves in the area.
In recognition of its rich history, then Pres. Manuel Quezon declared Biak-na-Bato a National Park in 1937.
WEATHER OUTLOOK: SAN MIGUEL, BULACAN
Many thanks to the Tribe c/o Sir Ruben Espinosa for the picture and information on Mt. Manalmon.