PinoyMountaineer featured in Manila Bulletin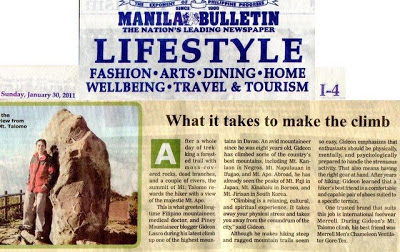 PinoyMountaineer author Gideon Lasco was featured in Manila Bulletin last Sunday, January 30, 2011, in an article entitled "What it takes to make the climb". In the article, he shares his climb in Mt. Talomo last October 26-27, 2010. There is an erratum in the article, which displays him in Jiri-san, South Korea but the caption reads "Gideon enjoys the breathtaking view atop Davao's Mt. Talomo". The article also featured Merrell's Men Chameleon Ventilator about which I wrote a gear review in the website.
As a mountaineer-blogger, Gideon has also been previously featured in Filipinas Magazine, Sunday Inquirer Magazine and other local publications.