Gear Review: Merrell Men's Chameleon Ventilator, field-tested in Mt. Talomo in Davao del Sur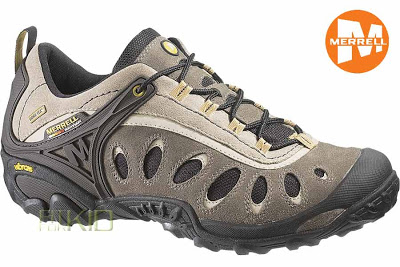 Merrell has never failed me thus far in my hiking career, and after trying the latest in the Chameleon line, the Merrell Men's Chameleon Ventilator Gore-Tex, its sterling record continues. Fresh from a traverse of Mt. Apo, we were confronted with another mountain, equally challenging, much less trodden: the veritable Mt. Talomo. And for this Difficulty 7/9 major climb I decided to test out this new shoe from Merrell.
It had all the usual features of Merrell that has endeared the brand to mountaineers: Vibram® Chameleon3 Sole/TC5+ Rubber that makes the shoe durable and stable, and helps the toenails from dying out of sheer front pressure. There's also the Ortholite® Anatomical Footbed that makes the feet comfortable. After all, the "Ventilator" label is meant to emphasize the comfort that this pair of shoes bring. Apparently, some mesh windows within the shoe are also supposed to make it "breathable", and therefore, comfortable.
In Mt. Talomo the trails were very steep; the moss-covered rocks and dead branches were very slippery and not even the Merrell could stand a chance, but then, I don't think no shoe can withstand such a surface. The shoe did very well, and did not need breaking in. It snugly fit, and went to work immediately after I started using it. We walked on moist, sometimes wet surfaces but my feet were perpetually dry thanks to the Gore-Tex of the shoe – again, adding to the comfort.
Descending a mountain is one of the most crucial tests for a shoe; a faulty pair of shoes can ruin your descent, or worse, kill off your toenails. No such thing happened in Mt. Talomo; in fact, I didn't even realize that we had already finished the trek, in just a fraction of the time we took ascending the same trail. Success!
Merrell shoes are chiefly hiking shoes — and perhaps their only drawback is that design-wise and weight-wise, you wouldn"t really wear them in the city. But then, you don't really want them there. These shoes' home is the mountains, and if you find yourselves at home in the mountains too, then your Merrells would make very good housemates.
For the blogger's account of his Mt. Talomo climb, please visit Hiking Matters #112.