[Tribu Guinobateno] Mt. Balagbag and Calaguas Island, Cam Norte (March 24-27, 2011)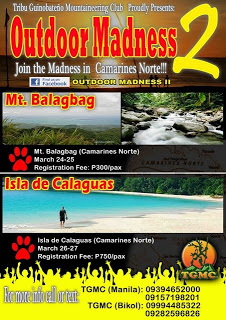 Once again, PinoyMountaineer.com is accepting events posting from various mountaineering clubs! Please email info@pinoymountaineer.com if you wish to promote your climb through PM.
To our beloved fellow mountaineers, our group TGMC is inviting you to be part our 2nd OUTDOOR MADNESS 2011. Daet Camrines Norte:) This time we'll be going to Mt. Balagbag & Isla Calaguas of Camarines at the Northernmost part of Bicolandia. Daet Camarines Norte is approximately 6-7 hours travel time from Manila.
Mt. Balagbag is known as "The Sleeping Giant" 997 above sea level summit. It takes about 6 hrs trekking & multiple river crossing to reach thue camp site and another 3 hrs. to summit.
After descent from Balagbag, we will continue our activity in an unknown paradise that can rival the white sand beach of Boracay and the serenity of Pagudpud, still virgin and unspoiled- the beautiful and enchanting ISLA DE CALAGUAS!!!
Mark your calendars! See ya!!!!
ITINERARY
OUTDOOR MADNESS II
(MARCH 24-27, 2011)
Day 0- March 23, 2011
8:00 Assembly (if we reach 47 pax arkilado na natin ang 1 bus)
Amihan Bus Lines Airconditioned: P580 / head (1way)
options: 7pm philtranco terminal cubao tapat yan ng farmers plaza..,
8pm philtranco cubao or pasay
(mas maganda sabay sabay na lang tayo para isang bus lang)
9:00 pm ETD Manila TO Daet Camarines Norte
MT. BALAGBAG ITINERARY
(Max. of 40 pax only)
Day 1 – March 24, 2011
5:00 am ETA Daet
6:00 am Assembly area (Daet Capitol Ground)
7:00 am ETD to Mt. Balagbag Jump-off point
8:30 am ETA Jump-off point (Barangay Hinipaan) (Final Preparations)
9:00 am ETD Jump-off point
Start Treking to Camp Site
Lunch along the trail
4:00 pm Camp Site
5:00 pm Camp Preparation, Dinner
Socials
10:00 pm Taps (kuno) MADNESS!!!!
Day 2 March 25, 2011
5:00 am Wake up call
5:30 am Breakfast
6:00am Assault to Hunters Peak
9:00 am ETA to the peak (picture taking)
9:30 am Descend back to camp site
12:00 am ETA Camp site
12:30 am Lunch
1:00 pm Break camp, Decend back to Jump-off point
5:00 pm ETA Jump-off point
OVERNITE CAMPING @ MELVICS FARM MADNESS!!!!
ISLA DE CALAGUAS ITINERARY
(Unlimited Pax!!!)
Day3 March 26, 2011
07:00AM – Daet/ Breakfast Assembly area (Daet Capitol Ground)
8:00AM – ETD for Calaguas Island (tentative) or side trip macolabo island
10:00AM – ETA Calaguas Island/ set camp explore
12:00 NN – Lunch
01:00PM – Siesta/ swimming/ explore/ picture
FUN &GAMES!!! MINI ADVENTURE RACE ECT…
06:00PM – Dinner
07:00PM – Socials: UNPLUG PERFORMANCE BY THE "SKAMALIG" BAND!!!
10:00PM – lights out? i dont think so… MADNESS PA DIN!!!!
Day 4 March 27, 2011
06:00AM – Wakeup call sa mga natulog.. No wake up call sa mga naumagahan!!!
07:00AM – Breakfast
09:00AM – Break Camp
10:00AM – ETD Calaguas – Daet
12:00NN – ETD Daet
1:00PM – Late Lunch
2:00PM – Surfing Bgasbas MADNESS!!!!
5:00 PM – Rest
6:00 PM – Back to Manila
Registration Fee: MT. BALAGBAG ONLY: P300
ISLA DE CALAGUAS ONLY: P750
BOTH: P1000
Inclusive of:
-Transpo from Daet to Jump-Off (Vice Versa)
-Transpo from Daet to Vinzon Port (Vice Versa)
-Boat Transfers to Calaguas (Vice Versa)
-Camping Fees in Calaguas
– Guide fees
– Vinyl I.D.
– Climb Certificate
– Of course of our ever favorite Longanisa Guinobatan, Pinangat (Laing Bikol) & Bikol Express will serve during last night Party!!!
THINGS TO BRING:
* beach and resort wear
* footgear: rubber slippers, beach sandals
* wide brim- hat
* sunglasses
* tents –
* sleeping bags –
* Insect repellant and or soap with critonella to ward of mosquitoes
* sunscreen, sunblock, sun tan.
* Flashlights – magdala nalang po kayo para may extra =)
* first aid kit / medicines – magdala nalang po kayo para may extra =)
* Camera with enough battery and memory cards
* cellphone (warning: signal can still be patchy at times
* a waterproof pouch and bag to store your valuables in
* moist towelettes
* Tissue Paper
* Huge garbage bag to protect your gear while on the boat – may dala kami nito pero magdala din kayo..
* a waterproof jacket or raincoat
* snorkling gadgets
ORGANIZERS CONTACT NUMBERS:
TGMC (Manila): KEN: 09394652000
XERDZ: 09157198201
TGMC (Bikol): JOVIT: 09994485322
NEIL: 09282596826
Information in this post was provided by the organizers of the aforementioned activity. See the
PinoyMountaineer.com Terms of Use
regarding events and other posts from third-party sources.