Mt. Balagbag (777+) in Rodriguez, Rizal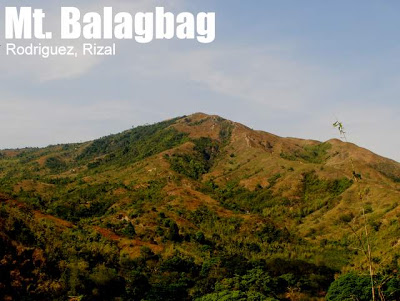 MT. BALAGBAG
Rodriguez, Rizal
First jumpoff: Sitio Karahume, Brgy. Macabud, Rodriguez
second jumpoff: Sitio Balagbag, Brgy. San Isidro, Rodriguez
LLA: 777 MASL (unverified)
Days required / Hours to summit: 1 day / 1-2 hours
Specs: Minor climb, Difficulty 3/9, Trail class 1-2
BACKGROUND
A hiking destination favored for its proximity to Metro Manila is Mt. Balagbag, located in Rodriguez (formerly Montalban), Rizal. This mountain is part of the Sierra Madre range as it transitions into the plains of Central and Southern Luzon. At over 700 MASL, it is of sufficient elevation to offer views of Ortigas and some parts of Metro Manila, as well as the Ipo Watershed.
The trail is very easy and wide, and Mt. Balagbag is also a favorite of mountain bikers. Although locals recall a past when the mountain was covered with trees, it is now barren, and hikers who will trek it summer will find sun exposure as the only difficulty in this trek. Hence, dimtrekking (hiking very early in the morning or late afternoon) is recommended.
Additional features of Mt. Balagbag include some small waterfalls and rivers along the way, as well as the possibility of traversing to San Jose Del Monte, Bulacan or other barangays of Rodriguez, Rizal. Along the way to Mt. Balabag, there is also the Veterans' Peak or Veterans' Summit which is more of a local tourist spot. There are security concerns regarding Balagbag at the moment, but it has the potential to be a nice and near hiking spot from Manila.
ITINERARY
Note: The itinerary described below is open-ended, as there are various possibilities in doing the Mt. Balagbag climb.
Dayhike
0500 From Cubao, take jeep to Jolibee Tungko
0600 From Jolibee Tungko, take jeep to Karahume or Licao-Licao*
0700 Explore the waterfalls from Karahume
1030 Head off to the summit
1200 Arrival at summit
1300 Head down to Licao-Licao
1500 Back at jumpoff; take jeepney to Rodriguez then QC
1800 Back in Quezon City
PRACTICALITIES: MT. BALAGBAG
Transportation

Public (1) Van, Cubao or PhilCoa to Tungko;(2) Jeepney, Tungko to Licao-Licao;
(3) optional tricycle from Licao-Licao to Sitio Balagbag
Approximately 1.5-2 hours travel time because of various stops and delays. Private. Considering the proximity of Mt. Balagbag to Manila, private transportation can be considered as a reasonable and very convenient option in hiking Balagbag. Simply head to Rodriguez, Rizal and then to Brgy. Macabud. An uphill road will take you to the Licao-Licao area, and from there, if your vehicle is sufficiently hardy, one can go all the way to Sitio Balagbag.  Approximately 1-1.5 hours travel time.

Registration

(1) Logbook at the Sitio Balagbag (P10 or 20 registration fee)

Available, 300-400 for dayhike
Required? No.

Kagawad toto: +639302355562
Pitoy- +639193265454
Contact either of the two for assistance in securing the permit beforehand. 

Campsites and waypoints

Mt. Balagbag's summit serves as a campsite, and it is marked by a hut where one can also stay.

Water sources

Sitio Kinabuan, Sitio Sadlac

Cellphone signal

Cellphone signal is reliable throughout the trail.

River crossings

None

Roped segments

None

None

None

Rattan

None

Hiking notes

There were some reports of theft in 2014. Exercise caution when doing an overnight hike!

Sidetrips

Mt. Maranat / Maranat Falls

Alternate trails

Possible traverse to Mt. Maranat / Maranat Falls

Yes

Facilities at jumpoff

(+) Sari-sari stores
(+) Carinderias / paluto
(+) Wash-up / shower places

300-500 (dayhike)
400-600 (overnight)
PICTURES OF MT. BALAGBAG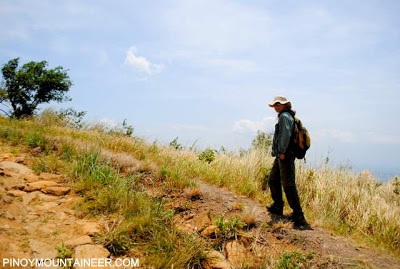 The trail is very wide and open.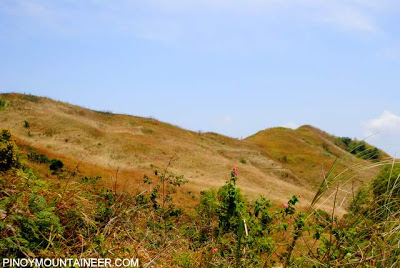 Although it had a forested past, Mt. Balagbag is now almost totally bare.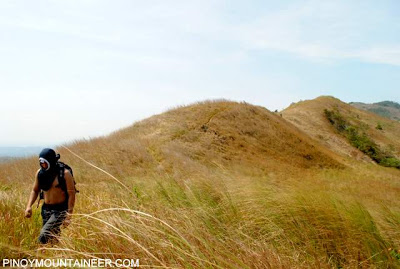 TRIVIA
Local industries in the communities in Mt. Balagbag include making of walis-tambo, made of tambo grass, among others. Sadly, Mt. Balabag seems to be an exit point of illegal logging operations in the Sierra Madre, and the blogger witnessed the transport of logs via a 'secret trail' going down to another barangay of Rodriguez, Rizal.