Mt. Tampurong/Matti-Kapatagan Traverse (1,682+)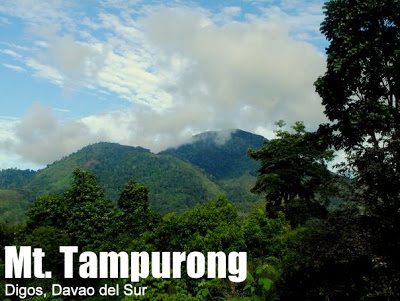 MT. TAMPURONG/MATTI-KAPATAGAN TRAVERSE
Digos, Davao del Sur
Entry point: Sitio Matti, Brgy. Binaton, Digos
Exit point: Brgy. Kapatagan Poblacion, Digos
LLA: 1682 MASL
Days required / Hours to summit: 1-2 days / 4-6 hours
Specs: Minor climb, Difficulty 5/9, Trail class 2-4
Features: Mossy forest, views of Mt. Apo
The third mountain in the 'Apo Trilogy', together with majestic Mt. Apo and its lofty guardian, Mt. Talomo, is Mt. Tampurong. Although it has been, literally, overshadowed by Mt. Apo, arguably the most popular mountain in the Philippines, it is, in itself, a prominent landmark in Digos and elsewhere. In fact, even from as far as Bukidnon, it can be seen as a prominent mountain, interrupting the straight line that is Kapatagan. Moreover, if you're standing at the summit of Mt. Apo, you can see a symmetric-looking cone beneath — this is the mountain we're talking about.
Mt. Tampurong is known to Davao-based mountaineers as a training climb. The mountain is a sensible choice, for although it rises to only 1682 MASL, it has a little bit of everything: some ascending grassland slopes, a few streams to cross, and, as its highlight, some mossy forest. This mossy forest does not reach the grandeur of Talomo or Dulang-Dulang – it is more of a Mt. Cristobal, and the similarity extends to the noxious plants (i.e. thorns and lipa) that seemingly forbid entrance to the summit.
However, in spite of its atractions, it is still not a very popular climb; the mere mention of Sitio Matti still evokes memories of the infamous "Digos massacre". On June 25, 1989, while inside a village chapel attending a Sunday service in Sitio Matti, about 40 men, women, and children were mercilessly murdered by some 120 armed Maoist communist terrorists New People's Army (NPA) led by Amado Payot, aka Benzar. However, while this event has continued to cast a shadow, Matti in general and Tampurong in particular is quite safe for hiking nowadays. Nonetheless, the fact that very few people actually bother to climb Tampurong makes the trails a little-less-than-established, especially those near the summit
And yet, there are rewards in climbing Mt. Tampurong; not the least of which is a stunning view of Mt. Apo, with the Boulders right in front;you can even see the volcanic vents effusing white, sulphuric steam. There is also the view of Kapatagan – and here you can appreciate that it is really 'patag' – flat. Finally, Tampurong offers a more intimate glimpse of life in the highlands; you can see people harvesting and drying bananas, preparing kaong, and many other facets of agraria.,
The conventional itinerary for Mt. Tampurong requires two days, but I found out that a dayhike works just as well. One day after I dayhiked the Tampurong traverse, Iron Lady Jo Steven did the same and since it worked a second time, it is what we are recommending as the standard itinerary for this mountain.
ITINERARY
0400 Take bus from Davao to Digos City
0530 From Digos, take habal-habal to Sitio Matti
0630 Arrival at Sitio Matti. Arrange for guides
0700 Start trek
0800 ETA Hanging Bridge
0930 Arrival at waiting shed, Purok Tampurong
1100 Enter mossy forest
1200 Summit
1230 Commence traverse to Kapatagan
1630 ETA Kapatagan. Take habal-habal back to Digos
1730 ETA Digos. Take bus to Davao.
1900 ETA Davao City
SPECIAL CONCERNS
Logistics. You can contact Digos-based Jaime Aldeguer to help you arrange a trip to Mt. Tampurong; he can arrange transportation from Digos to the jumpoff; and can also help you secure a guide. Otherwise, you can go straight to Digos, bargain for a reasonable rate for a habal-habal to take you up to Sitio Matti, and from there, you can look for a guide. I paid P300 for my guide in February 2011.
Transportation. The habal-habal will cost you P200-P300 roundtrip (per person) from Digos and the Davao-Digos-Davao bus ride is P100. Buses from Davao originate from the Ecoland Terminal; to save time take the "One Stop" bus from Davao to General Santos; it only stops at Digos and so you have, in effect, a nonstop trip.
Climbing notes. Long-sleeved shirts or drifits are advised due to the presence of lipa and rattan in the forested summit area (1400-1682 MASL).
Indeed, from Bukidnon one can see Mt. Apo, Mt. Tampurong, and Kapatagan between them.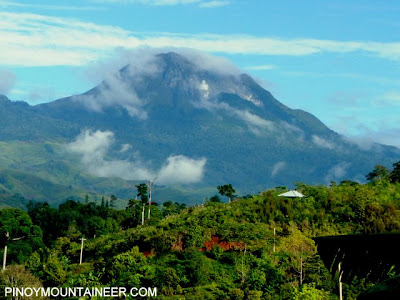 A spectacular view of Mt. Apo awaits the climber even at the jumpoff.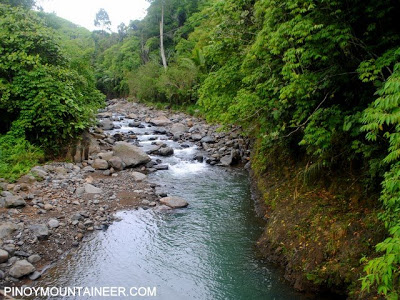 Some nice streams are forded along the trails.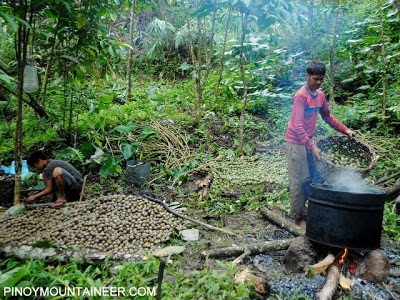 Preparation of kaong is one of the agricultural activities in Sitio Matti.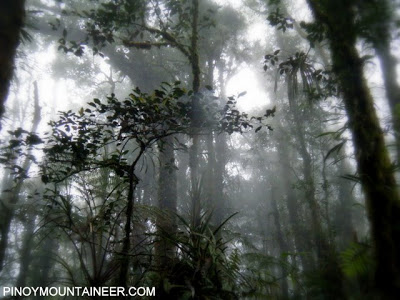 The forest is reminiscent of Mt. Cristobal.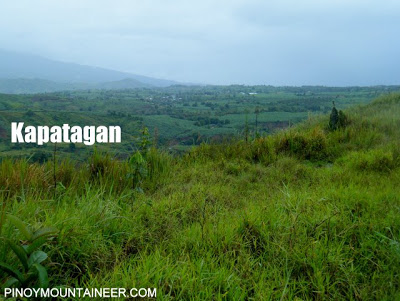 A view of Kapatagan is one of the visual highlights of the trail.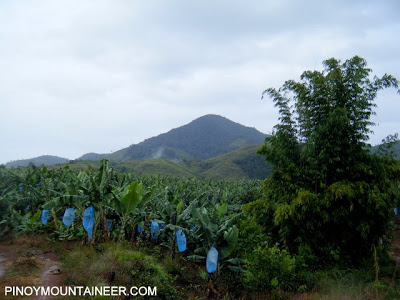 Another view of Mt. Tampurong this time from the Kapatagan side.
TRIVIA
This article was written in Kota Kinabalu on March 2, 2011.