A Kota Kinabalu guide for Filipinos climbing Mt. Kinabalu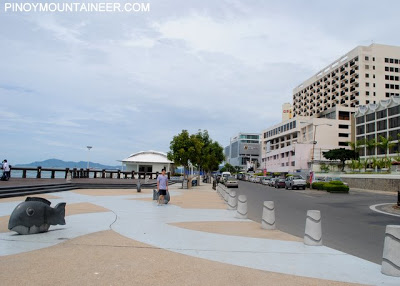 This is a guide for
Kota Kinabalu
,
the city
; for a guide on
the mountain
, Mt. Kinabalu, please visit
this article in PinoyMountaineer
. This article is dedicated to the participants of the PinoyMountaineer Mt. Kinabalu Expedition 2011.
Currency concerns. The Malaysian ringgit (RM or MYR) is equivalent to roughly 14 Philippine pesos. However, if you trade Philippine pesos to the MYR in Kota Kinabalu, the exchange may not be as reasonable; it is still better to use US dollars to get MYR while in Malaysia. There is a money changer at the airport; many others are in town. Another option, which could work for some major banks such as BPI, is to use your Philippine ATM card to withdraw for cash – the ATM will automatically convert your peso account into ringgit. But there is a service charge (in BPI it is around P150/transaction). What I do is bring US dollars from the Philippines, trade it in KK for ringgit. Take note that in some cases (and this is also true for Indonesia), they do not accept $20 or $10 bills for currency exchange. Better if you bring larger denominations just to be sure.
Expenses at the Manila airport. Just so that you know exactly what to expect, there is a P1,620 travel tax levied on all Filipino passengers, plus a P750 terminal fee, for a total of P2,370 (as of March 2011). This is not included in your Cebu Pacific ticket, so you better prepare for it. The payment kiosk at Terminal 3 is at the far right, beside the Cebu Pacific ticketing office. Go there first before falling in line at the check-in counter. Don't forget that the baggage allowance of 15 kilos is somewhat followed strictly now, and a 55L pack can easily exceed that weight if you're not careful. There is an additional fee per kilo in excess of 15.
Transpo from KK International Airport to KK town. Flights from the Philippines – whether with Cebu Pacific or Air Asia, arrive in the evening, during which the buses no longer ply the Terminal 2 to KK town route (it would have been very cheap, RM1.50). The only option, therefore, is to take the taxi, which costs RM 30 (around 420 pesos). Check your hotel if they have an airport pick-up service as well, which sometimes comes for free not only for three-star hotels and higher; some backpacker lodges also offer them as a come-on if you stay for two or more nights.
Transpo within KK town. The town is quite small, and most of it can be covered by foot. Considering that during dayhike the traffic can be quite heavy, considering the narrrow-ness of the roads, it is a good option to just walk around. Some free brochures at the airport come with some maps in them so you may want to grab one.
Lodging. There are accommodations in Kota Kinabalu catering to a variety of budgets. There is a Shangri-La Hotel in the waterfront, and also Promenade Hotel, a four-star hotel that is conveniently located between Plaza Wawasan (where there is an outdoor shop) and Centerpoint Mall (where there is an outdoor shop). Backpacker Lodges are located in Kampung Air and Jalan Gaya – and a one-night stay in a dormitory-style room costs RM20-25. The backpacker lodges are clustered together in one area so you can just walk in any of those; though you may also want to reserve via the Internet.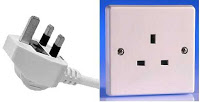 Power plugs.
Take note that in Malaysia, the power plug and socket they use is totally different from the ones we have in the Philippines. In Malaysia, they use a Type G power plug and socket. This plug, commonly known as a "13 amp plug", is a large plug that has three rectangular prongs forming a triangle (see picture). You can go to the
Wikipedia article on different power plugs and sockets
. You may want to buy an adapter in the Philippines if you will need electricity for your chargers and laptops.
Outdoor shops.
Please see
this article
for descriptions and directions for the three outdoor shops that are located in Kota Kinabalu.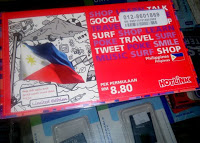 Communications. There are three networks – Maxis, DiGi, and My Celcom. All of them work well in Kota Kinabalu. If you are on international roaming, you may use any of them. For plan users, contact your provider if you need special arrangements for a roaming service (As a Smart subscriber I was asked to make a deposit of 1500 to activate auto-roaming). Some Malaysian networks sell SIM cards especially customized for Filipinos for RM8.80 and comes with some calls/texts to the Philippines. But I don't think they're worth buying if you're just staying in Kota Kinabalu for a Mt. Kinabalu climb.
Smart: / and send it to 333
Globe: Prepaid clients can text GROAM ON and send to 2884. Free of Charge. A minimum balance of P80 is required to make and receive a call while roaming. A minimum balance of P25 is required to send a text message. As soon as you arrive in the Philippines, please be reminded to text GROAM OFF and send to 2884 so that the minimum balance as stated above for calling and texting will not apply.
Sun: International Prepaid Roaming is not available at the moment.
Internet. Many backpacker lodges, and definitely most hotels, offer free Wi-fi. My favorite Wi-fi spot is the Old Town White Coffee with its several branches around the city. There are also several internet shops around the area, offering Internet with rates that range from RM1/hour to RM 2/20 minutes.
Food and beverage. A lot of restorans serve traditional makanan (food): there is the nasi goreng (fried rice) meals; the mee goreng (fried noodles); the soto (noodles and soup), and the roti (bread) with various variations, featuring ayam (chicken), daging (meat), etc. As for minuman (drinks) there are various variations of teas, both hot and cold, as well as fruit juices. A meal, including a drink, would cost you anywhere between 8-15 RM on the average — somewhat akin to Manila standards.
The fastfood chain with the strongest presence is KFC, followed by Burger King. Downtown, there are also Italian, Japanese, Vietnamese, Thai, and of course Chinese restaurants.
Going back to the airport. You can take a taxi on the way back to the airport, at roughly the same price, or lower. No fees or charges will be collected in the airport, since you've already paid the travel tax as part of your ticket. Be there at least two hours before your scheduled flight. Once inside the departure area, there is just one restaurant.
Security notes. Kota Kinabalu is a very safe city, but just the same, always bring your passport with you.