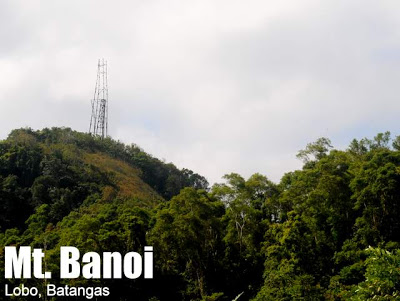 MT. BANOI
Lobo, Batangas
Major jumpoff: Sitio Malabnig, Brgy. Balatbat, Lobo
LLA: 960 MASL (Main Peak) 850 MASL (Two Towers' Peak)
Days required / Hours to summit: 1 day / 3-5 hours
Specs: Minor climb, Difficulty 3/9, Trail class 1-3
Features: Woodlands, scenic views of Southern Batangas
Article history: Last updated February 21, 2013
BACKGROUND
Mt. Banoi is part of the mountain range that surrounds the town of Lobo, which, at 30 kilometers away from Batangas City, is one of the most distant towns of Batangas province relative to Metro Manila. With the advent of the SLEX and Star Tollway connections, however, Mt. Banoi and its sister mountain
Mt. Lobo
are now within "striking range" of Manila, i.e. dayhikable in a way that is compatible with the public transportation (last trip from Lobo to Batangas City leaves at 1700H).
Information on Mt. Banoi has been scant in the Internet. Old itineraries still mention an active communications tower in Two Towers' Peak, but they are now abandoned and rusting. Moreover, it is now clear that the main peak of Mt. Banoi is much higher than the listed 600 MASL; it is actually 960 MASL and goes beyond the towers – it requires a hike of less than an hour, but considering that the views are the same through the peaks, a visit to the Main Peak is optional.
The hike starts at the Chapel at the end of the road of Brgy. Balatbat, which is also the beginning of Sitio Malabnig. The trail is generally straightforward and is not particularly confusing. You can ask locals along the way; there are houses along the way. The trail passes through woodlands reminiscent of Mt. Sembrano or Mt. Malipunyo. The Malabnig Village is the major landmark along the trail – it is actually a community of more than a dozen houses at around 400 MASL, and beyond this lies the trail to the peaks. The first peak, the Front Peak, has an electric post and can serve as a campsite. Then, beyond it and in the same direction lies Two Towers' Peak which is easily identifiable with its two communications towers. Finally, the Main Peak is the taller, forested peak that you can see from the Main Peak. There is a small, cement landmark that can be regarded as the summit marker.
Features of the mountain include the bucolic scenes of farm animals, villages, and pastoral activities along the way. Then, at the top, the whole town ot Lobo can be seen, and so is Batangas City and Verde Island south of it, as well as the sea lanes. Mt. Lobo, which is continuous with Mt. Daguldol and Mt. Naguiling, can be seen east – and indeed Mt. Lobo is another climb in Lobo, Batangas – said to be even higher than Lobo at just beyond 1000 MASL. The downside of Mt. Banoi is that its views, while remarkable, are not that spectacular, and the distance (>3 hours travel time) may not justify it as a dayhike venue. Yet, it is still a high peak, a worthwhile challenge.
ITINERARY
0400 From Manila, take bus to Batangas City
0530 Drop off at Balagtas. Take jeep to Lobo Jeepney Terminal
0600 From Lobo Jeepney Terminal, take jeep to Lobo
0700 ETA Lobo Town Hall. Register at Police Station.
0730 Take tricycle to "Malabnig, Brgy. Balatbat"
0800 ETA jumpoff. Start trek.
0915 ETA Waiting Shed (Water Source)
1000 Arrival at Malabnig Village (Last Water Source)
1100 Arrival at Front Peak (770 MASL)
1130 Arrival at Two Towers' Peak (850 MASL)
(from this point, optional ascent to Main Peak)
1300 Start descent
1530 Back at Jumpoff
1700 Last trip Lobo to Batangas City
1800 ETA Batangas City. Take jeep to Balagtas Junction
1820 Dinner / Take bus back to Manila
2100 ETA Manila
*For overnights: adjust the itinerary accordingly by multiplying trekking time by 1.5-2. You can camp on Front Peak or somewhere near the village. There are no campsites in Two Towers' Peak or the Main Peak.
PRACTICALITIES
Transportation. As mentioned, Mt. Banoi is now possible as a dayhike but please take note that the last trip from Lobo to Batangas leaves at 1700H. Thus, one must strive to arrive back at the jumpoff at 1600H, to leave enough time for you to look for a tricycle or walk down to the highway. From Manila, transportation to Mt. Banoi is a matter of getting to Batangas City by bus (110 kms, 160 pesos, 2 hours), then taking a jeep from Batangas to the town of Lobo (35 kms, 56 pesos, 1 hour, last trip both ways: 1700H). Finally, from Lobo, take a jeep or tricycle to the jumpoff (<5 kms, 20 mins).
Registration and guides. Registration is required at the Police Station at the Town Hall, no registration fees are required there. However, as of 2012, a P20 registration is collected at the barangay hall of Brgy. Balatbat. Guides are not required as the trail is easy to follow.
Trail notes. Beyond the village, there is one fork on which you have to take the narrower upward, rightward trail. The wider trail continues straight and down – if you follow this you will realize that it will take you lower and lower; whereas the peaks are to the right and up. Be aware that at some point you have to take this trail – use your judgment to realize where this fork is.
Camping notes. While there are many water sources, it is safer to regard the Malabnig village as the last water source; prepare accordingly. Cellphone signal is present throughout the trail.
Sidetrip possibilities.
Some hikers have suggested the beaches of Lobo as a very nice post-climb sidetrip, or a place to spend the night after the hike.
MT. BANOI PICTURES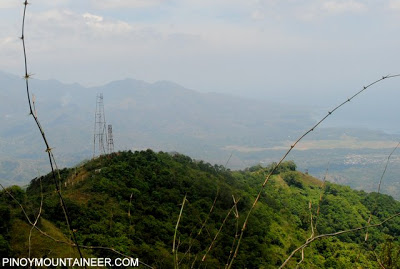 The Two Towers' Peak still has remnants of two communication towers, hence its
name. This photo was taken near the Main Peak of Mt. Banoi.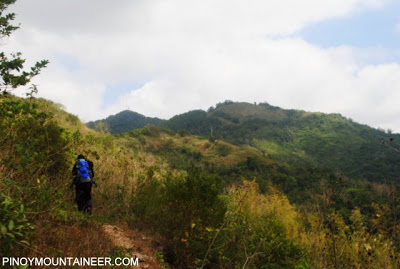 Continuing the trek from Malabnig village.
The distant peak is the picture is Two Towers' Peak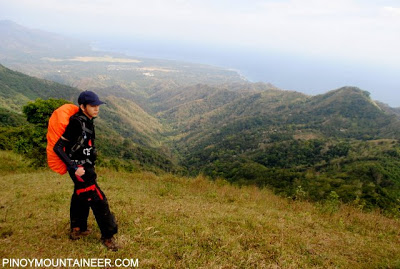 Once near the grassland slopes, the views of Southern Batangas are scenic.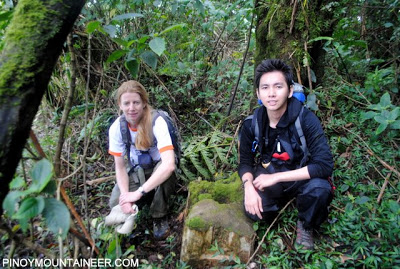 The summit is marked by a small cement block.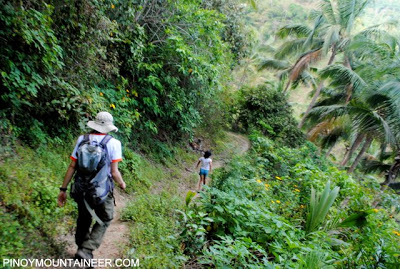 Descending from the village using well-trodden footpaths.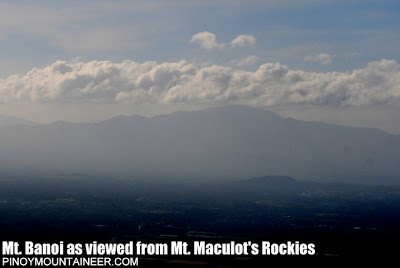 Mt. Banoi is a readily-identifiable landmark from the other Batangas peaks.
TRIVIA
A Traverse trail connects Mt. Banoi's Main Peak to, possibly, Batangas City via Mt. Bacao (?). However, when the blogger attempted to follow this trail, it suddenly terminates 800 meters past the main peak, and therefore we decided not to continue. More information is needed for this traverse, but it is definitely a possibility, especially considering that there are many mountains in the range.