Carstensz Pyramid: A guide to Filipino mountaineer Romi Garduce's Puncak Jaya expedition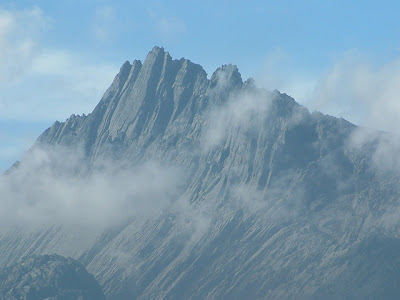 Now that Romi Garduce is aiming for the Carstensz Pyramid, PinoyMountaineer.com wishes to provide a background about the mountain for those who will follow his journey. We have interviewed our foreign friends who have already climbed Puncak Jaya and did our research to come up with this little article about his likely itinerary as well as some notes about the trail itself.
Here is a usual 22-day itinerary for a Puncak Jaya classic climb:
Day 1-3: From Jakarta, a flight to Jayapura, the capital of Irian Jaya, and then another flight to Illaga. Preparation days, verification of permits, hiring of porters. The elevation in Illaga is 1922 MASL.
Day 4 – 9: Trekking to the Carstensz Pyramid Base Camp – a difficult, but beautiful journey. This part of the trail has been compared to a Mt. Apo traverse in terms of difficulty. In a typical CP expedition, group equipment is portered, but climbers still carry around 10-12 kilos in their packs. The end goal is the Carstensz Pyramid Base Camp – which is already very high at 4300 MASL.
Day 10 – 14: Climbing to the summit. This time it is a technical climb, probably similar to Mt. Guiting-Guiting but tougher; you have to climb up volcanic rocks to reach an elevation of 4884 MASL. The next days can be spent attempting other nearby peaks.
Day 15 – 20: Return to Illaga and Jayapura. The descent can take six days, or, if access to an alternate route is permitted, just one or two days.
Day 21: Final day in Irian Jaya, packing of things and buying of souvenirs.
Day 22: Departure to Jakarta and in the case of Romi Garduce, back to Manila!
We also asked our Swiss mountaineering friend Joerg who climbed Mt. Apo this year and has also climbed Carstensz Pyramid, to compare the two mountains. Here is what he said:
"In Carstenz you walk for 6-7 days from Illaga to get to base camp and you have more rain than in Mount Apo. You start off in the jungle and later on it is comparable to Mount Apo concerning difficulty and effort in particular looking at the long descent from Mount Apo.

The summit day however is completely different as you need to climb in volcanic rocks up to degree 4 (European classification) and finish on a rather exposed ridge. The acclimatization is no problem as you move always beyond 3000m, so even somebody from the Philippines should not have the problem with this."
We wish Sir Romi all the best and await news of successful summit ascent in the coming days or weeks. He is literally on his way to becoming the first Filipino to climb Carstensz Pyramid.