Mountain News: Romi Garduce to climb Puncak Jaya (Carstensz Pyramid) this July 2011 in his Seven Summits bid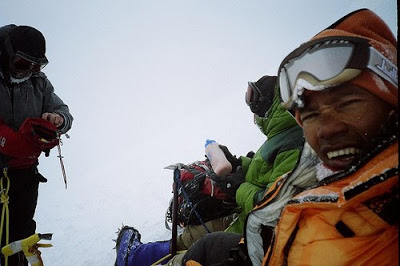 Romi Garduce
, veteran Filipino mountain climber, and to date the Filipino with the most number of 'Seven Summits' mountains climbed, will be aiming to add one more this month: the elusive
Puncak Jaya
(also called
Carstensz Pyramid
) in Irian Jaya, Indonesia. Garduch, as he is fondly called by his hiking friends, is well on his way to becoming the
first Filipino to climb the highest mountains in all the continents of the world
.
In pursuit of this goal he will also aim for Vinsons Massif in Antarctica this December 2011, when it will be "summer in the Southern Hemisphere, but still extremely cold. Asked about the sequence and timing of his last two climbs, Romi told PinoyMountaineer in 2008 that he intended to pursue both Puncak and Vinsons but "Vinsons will be the last, as mountaineers do it."
It may also be asserted that Romi is a candidate in becoming only the second Southeast Asian to complete the Seven Summits. The first was Singaporean Khoo Swee Chiow, who completed the Seven Summits in 2000 at the age of 35. PinoyMountaineer had the privilege of interviewing Khoo Swee Chiow in 2009.
GMA Network and The Primer Group of Companies are supporting Romi Garduce's two expeditions this year. A GMA news release yesterday said that live video feeds will be carried during the expeditions.
Puncak Jaya, more popularly known as Carstenz Pyramid, soars to 4884 MASL, and is the highest mountain in Oceania (which includes Australia) which makes it part of the 'Seven Summits'. Because of its sheer inaccessibility and logistical challenges, as well as technical , Puncak Jaya is considered by international mountaineers to be one of the toughest (and most expensive) in the Seven Summits list.
It will be remembered that Garduch (as he is fondly called by his hiking friends) has already bagged six of the eight "seven summits of the world": Mt. Kilimanjaro in Africa (2002); Mt. Aconcagua in South America (2005); Mt. Everest in the Asian continent (2006); Mt. Elbrus in Europe (2007); the Denali Peak in North America (2008); and Mt. Kosciuszko in Australia (December 2008).