Mountain News: Romi Garduce reaches summit of Carstensz Pyramid (Puncak Jaya)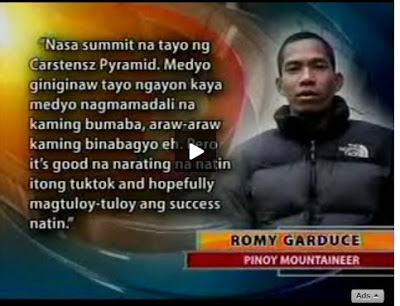 We are pleased to report that Filipino mountaineer Romi Garduce has reached the summit of Carstensz Pyramid today, July 22, 2011! GMA-7, provided live coverage of this triumph and we are embedding the video containing Romi's live reporting from the summit in this post.

This makes Romi Garduce just one summit away from being the first Filipino to complete the Seven Summits of the World, with Vinson Massif in Antarctica his next and final target in this decade-long journey that began in Kilimanjaro in 2002. In 2008, Romi told PinoyMountaineer.com that "Vinson Massif will be the last…as mountaineers usually do it."
We wish Romi more power as he descends back to the base camp in Puncak Jaya (said to be one of the most beautiful base camps in the world), then back to Jakarta and then Manila. Mabuhay ang Pinoy!
Screenshot and embedded video taken from GMA News website.