MountainTalk #10: Everest climber Regie Pablo talks about alpine climbing and mountaineering in the Philippines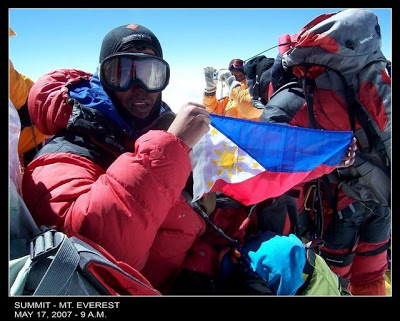 Last month, PinoyMountaineer.com visited Regie Pablo in his residence in Mandaluyong and we had a long and animated conversation about all things mountaineering. Prior to this meeting, we have corresponded in email and his insights and experience have been very illuminating for us.
Regie Pablo reached the summit of Mt. Everest in May 17, 2007, at 0900H, the last Filipino to do so, so far. Prior to this, he was the president of the Mountaineering Federation of the Philippines Inc. (MFPI), as one of the "second generation" of leaders in Philippine mountaineering. Prior to his Everest climb, he has climbed several alpine peaks including Cho Oyu, Communism Peak, and Denali Peak, the highest in North America.
Here are some of the things we talked about:
PinoyMountaineer: As the 7th and last Filipino to climb Everest so far, what do you think should be the next step that Filipinos should take with regards to high altitude climbing?
Regie Pablo: In my personal opinion, I think it's high time that Filipino mountaineers should now venture on alpine climbs that would fall in the category of first ascents and new routes. We've proven already that given the right training and ample resources, we can cope with the high altitude. But so far what we've accomplished are climbs on big mountains with established routes. I would like to see our climbing community grow and transform into similar to the current status of the Japanese Alpine community. They don't have big mountains but you can see them every climbing season in the remotest parts of the Himalaya establishing new routes and making first ascents on 6000m – 7000m+ peaks. Their exploits are very well documented. We need a new breed of climbers who will do it for the love of the sport and our mountains and not selfishly motivated by the fame and recognition that goes with the accomplishment.
PM: Many Filipino hikers are intimidated about the cost of international climbs. What is your advice to them in this aspect of finances?
RP: Unfortunately, Alpine climbs do really cost a lot at least to the perspective of a Filipino climber. But as mountaineers, let us view obstacles not as problems that will deter our resolve to succeed but rather as opportunities to be creative and resourceful in finding solutions to the challenge that confronts us. First, you really have to save money and most climbing regions have their own climbing seasons so that gives you time and window to raise funds. Second, established a climbing team which will have the same objective as yours, share your passion for the sport, physically capable to join your group, and more importantly, have the positive attitude with whom you can entrust your life and not abandon you in difficult situations. It is always better to have a climbing team vis-a-vis an individual climber because a climbing team can share costs and therefore the climb becomes more cost efficient. And third, be creative in raising funds. Find a way where potential sponsors and supporters can identify with your objective so they can easily be attracted in supporting your climb. But be very careful in organizing climbs that are supposedly "climbs for a cause" but in reality are schemes to raise funds for the benefit of the climber. It is frowned upon by the climbing community.
PM: Because of its proximity, Mt. Kinabalu is the usual starting point for Filipinos who wish to climb abroad. Is this a good introduction?
RP: Yes, Mt. Kinabalu is an ideal mountain for those who would like to try alpine climbing because of the manageable yet very good altitude experience and also for cost consideration.
I hate to say this but alpine climbing is not for everyone. Some people were born to cope with high altitude and others, no matter how strong they are at sea level, just don't have the physiological capabilities to handle low oxygen level at high altitude. Mt. Kinabalu's summit is at 4,000+ m. level which is the first threshold for humans in coping with oxygen deprivation. If your body does not respond well at this altitude, then I regret to inform you that perhaps you should rethink venturing into alpine climbing.
And as you've said, the proximity is very ideal so you don't have to spend so much for airfare. Airfares usually are about 20-30 per cent of climbing cost and can even go up as high as 50 per cent, depending on the climbing region where you are headed.
The shelter facilities available in Kinabalu Nature Park are also ideal since you don't have to invest on expensive four-season tents, so that also takes away some cost. Plus, that's at least 5 (five) kilos off your pack (and back).
The topography of Kinabalu is also ideal for Filipino mountaineers. Since it does not involve glacier travel, you don't have to invest yet on expensive equipments such as ice axes, crampons, snow shoes, etc. You just need good thermal liners and outer layer clothing and you are ready to go. No special alpine skills are also necessary. So if the climb doesn't work out for you, you had a low equipment investment unlike doing it straight on to alpine climbs with glacier travel.
PM: After Kinabalu, what would you suggest as the second step?
RP: Some climbers would opt for a Kilimanjaro climb but unless you have your sights for the Seven Summits, I will not recommend it. It just costs too much (if you are coming from the Philippines) and the alpine exposure is just not worth it given the expenses you'll have to incur.
For me, the ideal next step would be the Everest Region either at the Nepal side or Tibet side. The expenses are more economical compared to Kilimanjaro. For those who would like a good hiking experience, the trek to the Everest Base camp via Khumbu Region presents a good opportunity. EBC Khumbu Glacier is about 5,300+ m. ASL. The climbing is progressive in terms of altitude and environment. The key here is right pacing. You can aim for Gokyo Ri or Kala Pattar or both after doing EBC. If you are up to it, you can even make an attempt to Imja Tse or Island Peak which is a 6,000m+ peak. But caution must be exercised if you will attempt Island Peak as it already requires alpine equipment and you need a good guide for the climb. For those who can afford to be away for a longer period, a trek to the Annapurna Circuit would also be a good exposure. If you are just after the altitude experience, you can do Everest Base camp via Tibet in Rongbuk Glacier. It does not require so much trekking compared to the Khumbu region and the altitude exposure can go as high as 6,500+ m. asl if you will aim for Advance Base Camp. But this is a boring proposition for the seasoned hiker as the Base camp which is about 5,500+ m. ASL can be reached by a 4 X 4 vehicle.
PM: Five years hence, the question of whether or not Dale Abenojar reached the summit is still hanging and unresolved. How can this issue finally be settled?
RP: Since this issue has erupted a few years ago, I have done my own research on the matter. Not for my own benefit but for the Philippine climbing community as well as these affects all of us. Since I have tackled the same Everest route as Dale, then I think I have a very qualified opinion regarding the matter. I have actually allotted a chapter of my book regarding this issue. I do not want to pre-empt the release of my book but all the documents, videos, interviews and correspondences I have collated, some of which are volunteered information point to the conclusion that he did not make it to the summit of Mt. Everest.
To give you a glimpse of one of the arguments that I will present against his claim, Elizabeth Hawley does not certify summiteers. She merely chronicles and archives climbs made in the Nepalese Himalaya and includes these in a list called the Himalayan Database which is released annually by the American Alpine Club. I have personally interviewed her and she has emphasized this. In fact, if you will look at the Himalayan Database where the name of Dale Abenojar is included, it has a connotation of (d) which denotes disputed. And mind you, the dispute to his claim is not coming from the Filipino climbing community alone. There are other international climbers/groups who have also disputed his claim. I will reveal this in my book. So, by being included in the Himalayan Database that is maintained by Elizabeth Hawley does not necessarily mean that you made it to the summit. The certificate he obtained from the China Tibet Mountaineering Association (CTMA) is another matter of which I will also present a case in point.
But of course, we will have to hear it straight from Dale Abenojar.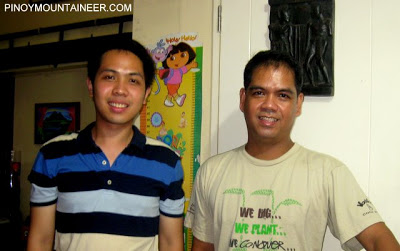 PM. What can you say about the present state of the mountaineering and outdoor community in the Philippines?
RP: Mountaineering in the Philippines has come a long way. From a supposed to be an elite band of people with a unique love for the sport almost 40 years ago, it has now become mainstream recreational activity. I strongly believe that the media attention we got from the Everest campaign in 2006 and 2007 has also contributed to this. More so with new technologies such as cellular phones, internet, cable tv and new forms of media like social networking sites, blogs, etc.
A few decades ago, it was tough organizing a climb outside your island group. But nowadays, you can easily download a climb itinerary from the internet, arrange your transportation and climbing guides through mobile phones and invite participants through social networking sites. We can also now easily buy equipments and apparels online.
With this, our numbers have multiplied a thousand fold. And here lies the concerns but I would like to also view them as opportunities.
People should realize that mountaineering is a dangerous sport. There is inherent risk in what we do. Over the years we've seen accidents and deaths in our mountains. I do not want to lump them all together but I am sure some of these deaths and accidents were preventable. We've underestimated our mountains and trainings we need to have before venturing into the outdoors.
We've also seen the proliferation of foreign outdoor brands in the local scene. Most of us have become more brand conscious, and I am equally guilty as well. But I hope we can support more of our locally made equipment and apparels because they create jobs and opportunities and contribute to the local economy. Let this proliferation of foreign brands be a challenge as well to local manufacturers to improve their quality and be more price competitive. Since these foreign brands will most likely not go away, I hope they would view us more as partners and help in the development of the sport rather than see us as a market that they can exploit.
The popularity of social networking and the personal internet sites, as well as the attention we get from the media have also reconfigured on how we emulate real climbing heroes. There was a time where we look up to real mountaineers because of their mountaineering accomplishments. But nowadays, we have cyber climbers who have more time uploading their climbing pictures or posting their unsolicited opinions on climbing matters. They have drawn more attention from the climbing community compared to real life mountaineers. And it's ridiculous because sometime these cyber climbers post opinions that borders from idiocy to lunacy. But I am more concerned on their mountaineering activities rather than their rants. Since they have gained personality status in our community, it has also encouraged them to organized climbs. I do not question their motive but more on their capability to handle groups especially in life and death situations given their still limited exposure to our climbing areas.
We've also seen a lot of individuals posing as BMC instructors. A good BMC instructor is honed by actual mountaineering experience and not only by the mountaineering references they had accumulated. And don't mind too much if they are asking for a fee as long as it is reasonable and justifiable. They have earned their keeps and they should also earn a living.
The numbers of mountaineering groups have also multiplied exponentially. Nowadays it is so convenient to organize groups or associations. In joining these groups, people should be more discerning. There are weekend warriors who are there for the fun that our sport offers. There are also some groups who would masked themselves as legitimate climbing organizations but in reality were established to serve the personal agenda of its founders. But there are also associations which would provide a more serious approach in what we do. But whatever associations we choose, let this be not a reason for us to hate or dislike each other. Some people have associated themselves too much with a certain group that they consider pariah any individual/group that does not belong to them. This causes disunity amongst us. Let us work together and focus our energies on the issues that bind us together and not work against each other on the issues that divide us. A united mountaineering community is a strong force to reckon with in our society. We can use our numbers to influence advocacy campaigns, legislations, mountain related issues, etc. But let us also not be afraid to call out groups that take advantage of our community whether within or outside our sphere.
For me, Pinoy Mountaineering, more than a lifestyle is already a subculture. We have already developed our own lingo, wear clothing and apparel that uniquely suit us, enjoy our own genre of music, have emulated our own climbing heroes, defined our way of life, and even share our own political views. I hope we can focus on commonalities that bind us to pursue a common agenda which is for the protection of the environment and our mountain ecosystem.
PM. There has been a lot of debate about "mass climbs", such as the recently-held Freedom Climb. What can you say about this and the related concept of 'carrying capacity'?
RP: Well, my opinion to this matter is nothing personal against those who believes in mass climbs and the organizers of the Freedom Climb, but I am totally opposed to it because it is unsustainable and the effects it leaves to our wilderness and even to the impression we create as mountaineers is not something that I would like to be identified with.
The Freedom Climb as we know it today is not really an original or new concept. It has been done before. Back in 1998, during the Philippine Centennial Celebration, an MFPI member club organized the same concept of climbing Mt. Pulog, Mt. Kanlaon and Mt. Apo simultaneously on Philippine Independence Day with the singing of the Philippine National Hymn and raising of the Philippine Flag as highlight of the climb. But, MFPI back then was coming from a self reflection in the conduct of mass climbs. The 1997 MFPI Annual Congress was a wakeup call on the sustainability and acceptability of mass climbs. The MFPI leadership, with concurrence of its members concluded that holding mass climbs was not a way to move forward. It decided to stop this and instead encouraged more base camp activities and holding of multiple peak/route climbs in one event but in consideration of the carrying capacity of the mountain/s. Having this in mind, the MFPI club decided not to open to non member participants their Philippine Centennial Independence Day Climb and instead kept it amongst its membership.
Mass climbs are inconsistent with what we espoused as mountaineers which is the protection of our environment. I would have to emphasize that we should revisit our mountaineers' credo and our LNT principles.
And I think the recent Freedom Climb garnered a lot of participants because of its claim/attempt for a world record. But for me, this world record is very trivial. Some people think that world record is always associated with good character. But for me, records are just perspectives. Did it bring out the best in us? Did it elevate our climbing community into world class quality status just because we laid claim on the world record? Who really benefited from the event, the Filipino mountaineering community or the organizers? And what if another country beats us to this world record, will we try to regain it? When does the vicious cycle stop?
Simply put, supporting mass climbs is not a legacy I would like to leave behind as a mountaineer. We can rally our community to unite in a grander scale but in a more relevant and sustainable activity. In the same manner, we can also celebrate our Independence Day without necessarily over stepping on our principles.
PM. What are the things that ordinary hikers can do to save and protect the environment?
RP: I have often said that we need a paradigm shift, that more than a sport, we should consider mountaineering as a form of environmental advocacy. As stakeholders to our mountain ecosystems, we should be at the forefront of mountain related issues. Our love for the environment should be unconditional. In issues where we are asked to choose of which side we are, default should always be for the environment.
A good mountaineer is half complete if he/she does not share his/her experiences with others. It is in sharing of our experiences that we convey the message of the importance of protecting the environment. It is also through sharing that we recruit converts to our cause. There will always be strength in numbers.
Let us live the lifestyle of a true mountaineer even if we are already in the lowlands. I've seen some mountaineers easily transform back to their old ways once back from a climb as if the experience didn't have any positive effect on them. We've always invoked LNT as a guiding principle but for some people, I think, this is just a three-letter word. I will cite some examples but I am sure people will view these as petty issues. Why do we need straws to drink when we can drink straight from the cup? People should realize that straws are additional garbage once used which can take up landfill space or clogged our drainage if dispose of improperly. Or, do we really need a receipt when using ATM machines? There are ATM machines that give us option not asked for receipts. Think of the number of trees that we can save and the garbage we do not create if we do not asked for ATM receipts. The list can go on but I am also aware that some of these practices are done unwittingly. The key here is a conscious and genuine desire to live by what we know is right and sustainable.
Let us also continue to educate ourselves on environmental issues. With the rapid development of technology new environmental issues crops out faster than we can think of solutions to the problems it creates. More importantly, ACT on these issues. Let us not be fence sitters. There are number of ways that we can address environmental issues without necessarily going to the streets. An informed mountaineer is useless if he/she does not do something about the issue or just shrug it off and concede that we can't do anything about it anyway.
PM. You were featured in Philippine Star recently, about the innovative clothing that you are developing. Can you tell us something about this product?
RP: I am running a Company called Revolve. I don't consider it a business but rather a Social Enterprise.
We produce sports apparels and bags using Recycled PET bottle fabrics as our main raw material. For now, we produce requirements based on job orders of Companies/Organizations which consider our products as part of their Corporate Social Responsibility campaign. Most of our current projects are running singlets but we've produced after event shirts as well as bags. But we will also be offering our own product line for retail consumption. Our next release will be mountaineering statement shirts. Please watch out for it soon!
Consistent with our advocacies, we also use recycled paper for our packaging and marketing collaterals. We also employ the services of a bicycle courier service when appropriate. And we also allocate a certain portion of our revenue in supporting projects that caters to indigenous peoples' communities.
It's my humble contribution to the community that has nurtured my personal advocacies. I hope we can be a success story of a Pinoy brand someday.
PM. Can you leave a message to those who are aspiring to pursue international climbs, as well as to those who are new to hiking in general?
RP: To anyone who would like to pursue alpine climbing or even tropical climbing, do it! Perseverance and determination will be a value that you would need a lot. Believe in yourself that you can do it.
I believe I am a test case of how a person with former limited physical activities but full of determination can still venture into this sport. I had asthma when I was a kid and due to this, I was not really very physically active in my teens. But the moment I got introduced into mountaineering, I got hooked and decided to adopt a healthy lifestyle. When I climbed Mt. Everest, I was coming from a frostbite injury and literally was climbing with a physical handicap. But I still pushed on and succeeded.
But our love for the sport is not enough to put us in the summits that we've love to be. You must equip yourself at all times with the proper training and equipment. Above all, pay tribute to the mountains that we hold dearest by protecting it. We will lose our sense and identity as mountaineers if there will be no more mountains to climb.
Keep on climbing!