Hiking matters #163: Actual itinerary of the Bicol Express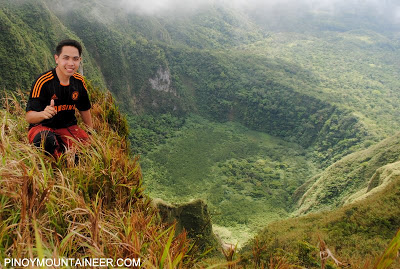 LEGAZPI – The
"Bicol Express"
is the week-long journey of seven climbs in the Bicol Region, from April 7-14, 2011 with Iron Lady Jo Steven, and, in some climbs, with other mountaineers such as JR, FR, and
Trail Adventours
. As in the
Visayan Voyage
, here is the actual itinerary of the past week for the benefit of those who may want to do the same trip, either wholly or in part.
Day 1: Mt. Asog (April 7)
0600 Arrival at Iriga City by bus from Manila
0630 ETA Sitio Ilian, Brgy. San Nicolas.
0640 Start of trek
0850 Arrival at First Peak
0930 Arrival at Second Peak
1010 Commencement of descent via different trail
1220 Back at Sitio Ilian
1400 Van from Iriga to Legazpi
1600 Arrival at Legazpi
Day 2: Mt. Malinao (April 8)
0500 Head off to Tabaco from Legazpi Central Terminal
0600 Arrival; Breakfast; met with JR
0700 Headed to Brgy. Tanawan Malinao, Albay
0830 Start trek
1200 Arrival at Mt. Malinao summit rim
1330 Started descent
1600 Back in Alinao; swimming in the cold spring pool!
1730 Headed back to Legazpi
1900 ETA Legazpi. Food trip!
Day 3-4: Mt. Mayon Old Trail (April 9-10)
0600 Met with Trail Adventours group in Central Terminal
0700 Breakfast
0900 Headed off to jumpoff in Brgy. Sto. Domingo
0945 Orientation
1000 Started trekking
1130 Arrival at Camp 1
1200 End of trek for Day 1
1800 Dinner / socials
2000 Lights out
0600 Start trekking
1000 Arrival at highest point reached (before Knife Edge)
1600 Back in Legazpi
1800 Dinner
0700 Meet up with JR; head to Brgy. Bonga, Bacacay
0900 Start trek
1430 Arrival at crater area, 1775 MASL (zero visibility)
1700 Back at Brgy. Bonga, Bacacay
1900 Back in Legazpi
Day 6: Mt. Pulog (April 12)
0500 Headed off to Sorsogon City from Albay
0630 Met up with Nick at Sorsogon City
0800 Arrival at Bacon, Sorsogon. Secure guides.
0930 Started trek
1130 Arrived at summit of Mt. Pulog
1230 Started descent
1500 Back in Bacon. Merienda.
1700 Headed back to Legazpi
1900 Arrival at Legazpi. Food trip!
1930 Arrival; Brunch
1000 Started trekking
1230 Arrival at Brgy. Guadalupe
1400 Arrival at the summit
1700 Back at Rapu-Rapu Muncipal Guesthouse
1800 Dinner / socials
0900 Breakfast at Embarcadero
1000 Headed off to Brgy. Amtic, Ligao City via Tabaco
1240 Started trekking
1500 Arrival at the summit – beautiful views!
1530 Started descent
1700 Back at jumpoff
1900 Back in Legazpi – victory dinner!
If Bulusan were officially open, we would have included it as part of the journey. Due to time constraints, the mountains of Camarines Norte – Mt. Labo and Mt. Balagbag – were likewise not included. But I would definitely go back for these mountains in the future.
ACKNOWLEDGMENTS (in chronological order)
Samingkil Mountaineers (Totoy)
George Cordovilla
Alinao Guardian Mountaineers (JR)
Trail Adventours (Coby, Guido, Bianca)
TARUM
Brgy. Captain Bigol of Bonga
Gubat Mountaineering Alliance (Nick)
Sorsogon Outdoor Society (Allan)
Dr. Yousef Marino, Municpal Health Officer – Rapu-Rapu
Camp One (Glen)
SEVEN BICOL CLIMBS IN EIGHT DAYS