MountainTalk #13: Romi Garduce on his book launch and future plans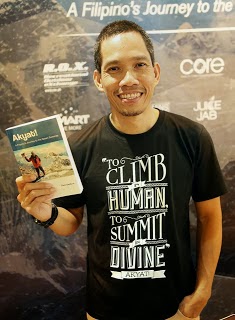 Photo courtesy of Romi Garduce
AMSTERDAM – October 3, 2013 saw the book launch of Romi Garduce's "Akyat", subtitled "A Filipino's Journey to the Seven Summits". This highly-anticipated book chronicles Romi's journeys to the highest mountains of each of the continents, becoming the first (and so far the only) Filipino to do so. I would have wanted to attend the launch (and get a signed copy of the book) but unfortunately I had already left for Europe just a few days before. Here are some questions I threw to Romi by email following the launch:
1. Congratulations on your book launch. Writing the book must have taken a lot of discipline and dedication! How did you manage it?
It TOOK ME 7 YEARS, patience is truly a virtue 😉 What helped were my occasional writing of climb stories, and comments from my reviewers/editors.
2. Do you write journal entries during your expeditions?
I DON'T ACTUALLY, and I realized that I don't need it. I did chronicle my climbs a few months, even years after.
3. Where can mountaineers get hold of your book?
4. Aside from your book, you've also recently reinvigorated your web presence. Can you tell us about your blog?
THE BLOG is my medium to share/ educate and campaign for various things. It's my way to reach out and share what I've learned.
You visit the blog here
.
5. What's next for Romy Garduce?
Nothing big yet. The most immediate perhaps is to pursue the idea of an alpine mountaineering course for Filipinos late next year. I'll most likely offer a class, part in Philippines, part in Nepal. For beginners and advanced, the latter will include a climb of 7000m peak.