Mountain safety: Earthquakes and hiking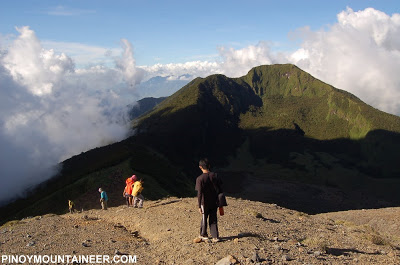 The literature on earthquake safety and hiking is very limited but we can extrapolate from general principles of earthquake safety, as well as general principles of outdoor safety, to arrive at some suggestions on what to do when there's an earthquake while your on the trails, or outdoors.
Q: Is it safe to climb after an earthquake?
A: There would be two concerns after a quake: First, aftershocks, and second, the possibility of the earthquake damaging the trails. The first concern is only a concern if the quake was sufficiently powerful, and in most cases, there are no serious aftershocks. Moreover, earthquakes are bound by geography and it is pertinent to look into PHIVOLCS warnings. For the second concern, just like after a typhoon, it is best to ask the locals about trail conditions.
If the earthquake did not pose any damage, or was of low magnitude, it is most likely safe to climb mountains within the area of impact. On the other hand, if the earthquake devastated a town, it is likely that even aside from the climb, there would be problems such as transportation etc that would make hiking in that area not recommended.
Also, take into consideration the geographic features of a particular mountain. In 2012,
Mt. Kanlaon was closed after an earthquake
shook the island of Negros. This is because of the precarious slopes in Mt. Kanlaon's crater, which can understandably be affected by earthquakes. for non-volcanic, non-rocky mountains, I will be more confident in doing a post-earthquake climb.
Q. What can you do if an earthquake happens while you're on a mountain?
A: Avoid being on or near bodies of water, such as rivers or streams. Avoid being anywhere near cliffs or rocky formations. Avoid being on the trough of a ridge, where water (or snow) can easily flow. Open spaces and lower altitudes are preferred. For instance, if I were in Mt. Apo, the Boulders might be the scariest place of all, and next would Kapatagan, which is just beneath it. I would feel much safer in Lake Venado, which faces the non-rocky side of Apo.
Indeed, an earthquake can dislodge looks rocks that can tumble down the mountain, so make sure you are not in their potential path. Many trails are located in these logical paths, so you may want to go off-trail if this seems to be the case. Rivers are easy routes for these rocks, and even the water level can change because of these sudden rock movements. This is especially true if there are crater lakes or big bodies of water above you (i.e. Mt. Parker, Mt. Pinatubo)
If you are climbing a volcano, it is best to avoid heading for the crater or other volcanic features, until you get clearance from the proper authorities i.e. the PASU. Earthquakes can actually be signs of an imminent or ongoing volcanic eruptions, so until you are able to ascertain whether it's tectonic or volcanic, better be on the safe side.
Contact your rescue officer and contact persons, inform them your location, and assure them that you are safe.
For people with asthma, make your you have your reliever medications within reach. The movement of trees dislodge a lot of pollen that can induce asthma attacks – this is a well-documented observation.
Q. Is this serious? Does it really happen?
A: Yes, it does happen. In 2011, my good friend, Iron Lady Jo Steven was actually on a
mountain near Fukushima, Japan when the massive
9.0-magnitude Japan earthquake
happened and she was nearly caught by an avalanche that was caused by the quake.
The Philippines, like Japan, is part of the Pacific Ring of Fire and we are surrounded with a lot of fault lines, and while strong earthquakes are very rare, and being on a mountain when it happens is rarer still, it is still best to know what to do when disaster happens.