Announcing Shirt no.3: "I love the mountains"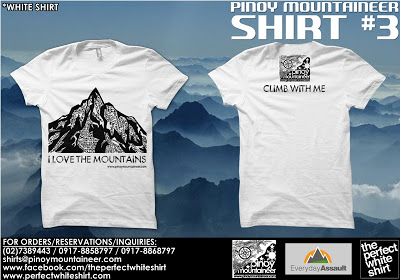 UPDATE (10/29/11): Shirt no. 3 is now available in all The Perfect White Shirt branches in Metro Manila!
PinoyMountaineer and The Perfect White Shirt share the love of mountains in
Shirt no. 3: "I love the mountains"
, the latest shirt in the numbered series. I am pleased to announce the release of this shirt next week- with the exact date to be announced in a future post.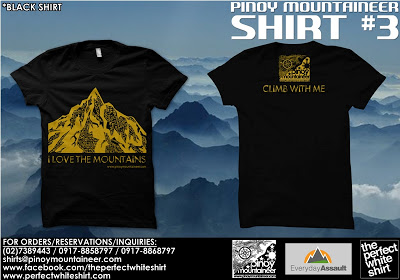 The art of Shirt no.3 was inspired by the face of Mt. Batulao when viewed at a certain angle in Nasugbu, Batangas, and within the design are inscribed mountains of various Philippine peaks – from Luzon, Visayas, and Mindanao. It is truly a celebration of our love for all the Philippine mountains that have given us great experiences and memories!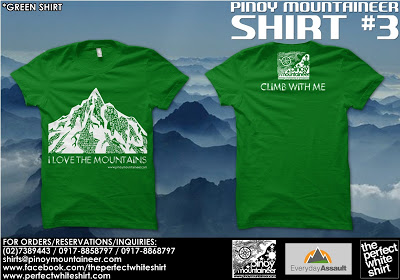 The shirts are available at White, Black, Green, and Blue Green, with the color of the art varying from black to gold to white to lava red – signifying the diversity of Philippine mountains. Mayan Gutierrez described the design in these words: "It looks like a volcano about to explode. I love it!"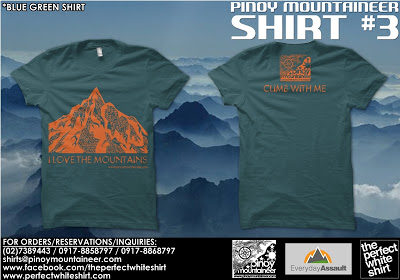 Shirt no. 3 will be available in all The Perfect White Shirt branches by the end of October 2011 (exact date of release to be announced). PinoyMountaineer shirts will also be offered in Mindanao
Please click here for the store locations
.
To make sure that you have the sizes and colors that you want, you can also pre-order shirts by emailing
shirts@pinoymountaineer.com
.
No.2 Take nothing but pictures