New hiking shirts from PinoyMountaineer feature John Muir and Sir Edmund Hillary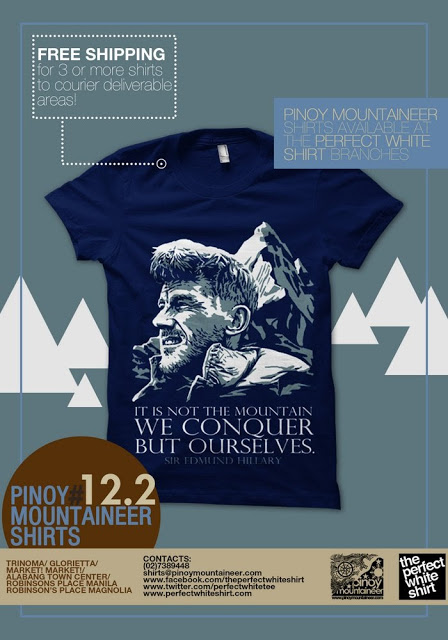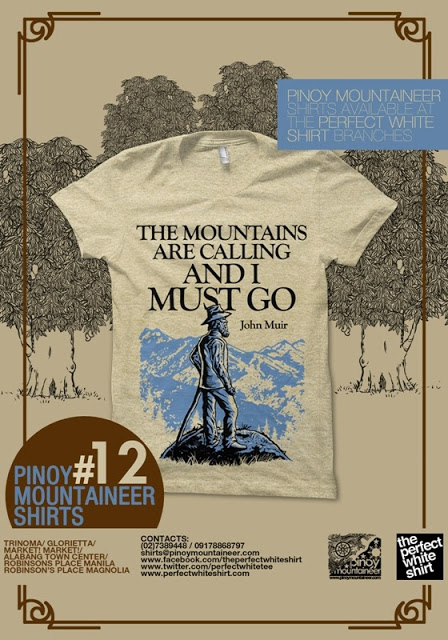 I am pleased to announce the release of the Shirt no. 12 series, which features immortal lines from such outdoor legends as John Muir, the American wilderness advocate and essayist extraordinaire; and Sir Edmund Hillary, the first to climb Mt. Everest.
It is John Muir who said: "The mountains are callling, and I must go," which succintly captures the mystical allure of nature, and the relationship between mountain and man. This is the theme of Shirt no. 12.1, "The Mountains are Calling", which features an illustration of a man similar to how Muir himself would have looked like in those beautiful national parks, which he helped establish.
Meanwhile, Sir Edmund Hillary's most famous quote: "It is not the mountain we conquer, but ourselves," reaffirms the physical, mental, and spiritual nature of hiking; and that what makes mountaineering so powerful is not humans going on mountaintops, but humans rising above our own limitations. This is the theme of Shirt 12.2, "It is not the mountain we conquer", which juxtaposes the classic image of Sir Hillary with the Himalayan peaks.
In the Philippines, these shirts are available at The Perfect White Shirt branches in major malls Metro Manila – Trinoma, Alabang Town Center, Robinson's Place Manila, Market Market, Glorietta 3, and Robinson's Place Magnolia. (see this link for more details). They are also available for FREE SHIPPING WITHIN THE PHILIPPINES for a minimum of three shirts!
The shirts are also available for international shipping! Shipping costs vary depending on your location, but the shirt prices are the same (PHP 350). Email shirts@pinoymountaineer.com for more details or send a message on Facebook.
For more details and inquiries feel free to contact +639178868797 or +6327389448.
You can also check out the earlier editions of our hiking shirts in the PinoyMountaineer numbered series:
PINOYMOUNTAINEER NUMBERED SHIRTS