Gear Review: Columbia Frosty Ridge II Three-Season Tent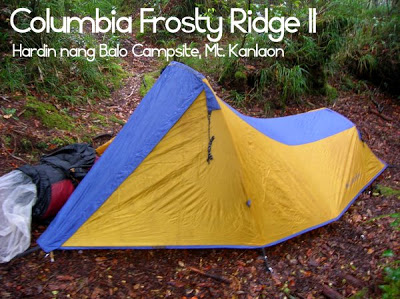 My oldest tent in current use is none other than my favorite Columbia Frosty Ridge II 3-Season Tent, a two-man tent that follows a tadpole-type configuration. It is non-freestanding but easy to set up, and it weighs less than 3 pounds, making it extremely packable, even in a sub-50 L pack!
Indeed, this tent has become my favorite through the almost four years I have been using it. The Frosty Ridge II has been criticized for being too small for two persons, and I have to somewhat agree; it is like a sleeping bag for two! But the effect is that it somehow makes the tent "cozy"; tight on the upper body but there is space, both horizontal and vertical, on the other half of the tent. Factoring out this issue of being to small for two, even as a solo tent, I find it a worthwhile purchase.
Two big packs at the entrance is also a bit of a stretch for the tent, but there are times when the more cramped a tent is, the better, especially during climbs when warmth and insulation is a premium – as in a cold Pulag climb.
The pattern for judging a tent, which I applied in my Swiss Gear, is to follow its relationship with the hiking process. For weight and packability it has high marks, and although you have to put in the poles inside the sleeves (unlike the more modern clip-on designs), its two-pole system is also extremely easy to set up.
Going in the tent, if there's two of you, can be quite challenging; there is no room for sitting down, but although narrow, it is a long tent, which is good for people like me who love to stretch their legs while camped out — it kinda relaxes the muscles and is good for the joints.
As for protection from moisture and cold, at its age right now, it would require a ground sheet to make sure the floor gets dry, and perhaps it can use a good deal of seam sealers if I have the time to do so, but otherwise, it is still very workable and I've seen it fend off rain quite wonderfully. Wind is no problem with its streamlined shape and guy lines that can be pegged for additional ground support. Indeed, this tent has many slots for pegs. Tarak Ridge should be a breeze (no pun intended)!
After use, it is not difficult at all to disassemble and put back in its case.
All things considered, for me the Frosty Ridge II has withstood the test of time, and has remained durable with minimal care. Lance Dy says that it is an improvement from the first edition of the Frosty Ridge, whose entrances are sideways, vis-a-vis a frontal gate of the II. Finally, I appreciated its lightweightness with the coming my other tents. Considering how it has joined me in many peaks – from Pulag and Amuyao to Kanlaon and Talomo-Apo, I'm not yet letting go of this tent that has remained my favorite.
But even so, I think I'm going to try out more one-man and two-man tents in the coming year!