Hiking matters #231: Winter trekking in the picturesque town of Monschau, Germany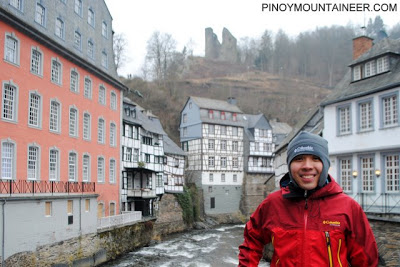 BRUSSELS, BELGIUM – I am here in Belgium for the weekend, as a guest of my fraternity brod, Dr. Philip Cruz. This brod of mine was so nice that, knowing that I am an avid climber, he decided that we will do a hike in spite of the frigid temperatures! (It would have been much easier to just sip Stella Artois in Brussels.) "But there are no mountains in Belgium!" I told him, pleasant. His response: "That's not a problem, we're going to Germany!"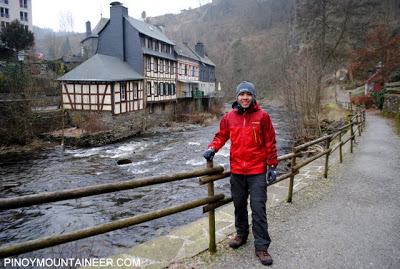 So off we went, while Djokovic battled Nadal in the Australian Open finals, to the picturesque town of Monschau in the Aachen region of Germany, 150 kilometers away from Brussels. I'd forgotten my fleece layers in Amsterdam, but I had enough clothing to attempt a sub-zero hike. For trail food, strofwaffels – a Dutch delicacy – was in order.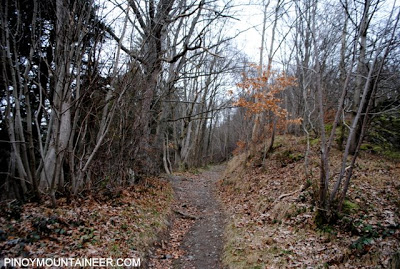 After just two hours, we had arrived in Deutschland. Monschau was beautiful in a quaint, bucolic way, and I loved it the moment I set foot on that town. Ruins of ancient castles, and a spectacular forest surrounded the town, as did hills that were obscured by the winter mist.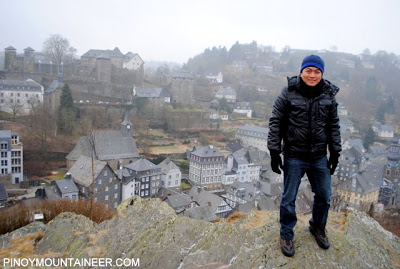 Our planned route for the hike was a loop around the town, passing by some nice ruins and getting a taste of the Eifel National Park and its extensive network of trails, considered one of Germany's best. Of course, the 300 kms from Aachen to Trier was something I would love to do in the future, but considering the temperature (-5 degrees Celsius) and limited time (I would have to rush back to Amsterdam for my classes), we were not too ambitious. Just to be able to hit the trails, even for a moment, would have sufficed to make me happy.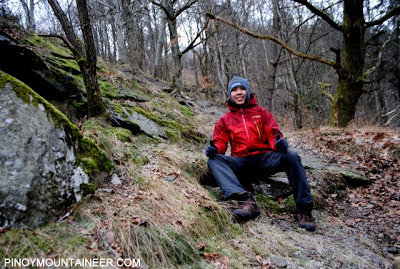 Light snow was falling when we started treking. Though the mist limited our view, what we saw was more than enough as a feast for the eyes. When the whole town of Monschau came to view, for instance, I was overwhelmed by the sheer loveliness of it.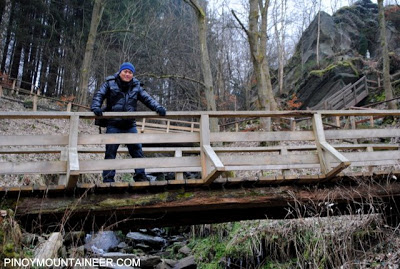 After reaching a small chapel which also overlooked Monschau, we descended back to some centuries-old paths to go up again, this time to the ruins of a medieval castle. I explored a bit further to see the trails leading to the forest, and I was really tempted to go further and further! But the threat of heavier snow pulled me back.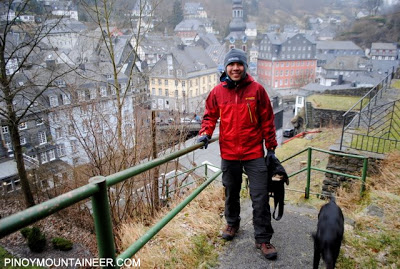 Still, there were a couple more attractions that awaited me: The 13th century Monschau castle, with some structures still intact, and as a finale, we passed by a little waterfall (more like a 'vertical brook') on the way back, with a couple of bridges passing through it.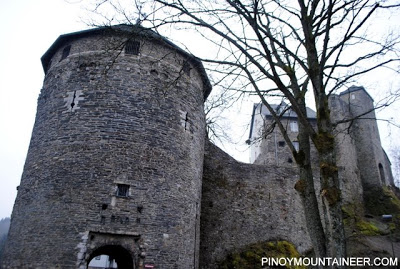 Back in Monschau, the celebratory meal was in order, in true German fashion: fritten (fries), bratwurst (sausage), and sauerkraut (fermented cabbage). Although it is actually just a very short trek, probably at the level of Mt. Manalmon in the Philippines, this is my first hike of the year, and I am really very glad about it, and I am uber-thankful to my brod for his hospitality and kindness. Now, I am ready to go back to Amsterdam!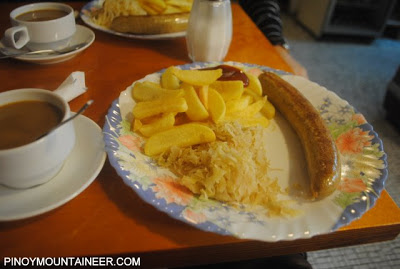 PS: Most of the things I've been seeing and doing here in Europe are non-hiking related so I can't write about them here. Too bad I'm not a travel blogger! Then again, I like it just the way it is. I like hiking more 🙂