MountainTalk #9: Five questions for Romi Garduce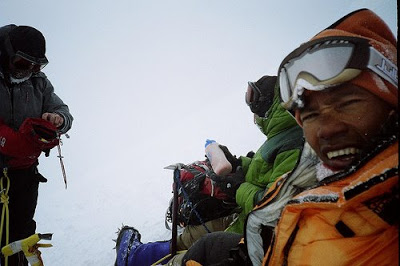 PinoyMountaineer has been in correspondence with Sir Romi Garduce since 2008, and he was the featured climber in MountainTalk #3. Aside from being one of the first Filipinos to climb everest in 2006, he is the Philippines' leading candidate to complete the Seven Summits, having done Kilimanjaro, Aconcagua, Elbrus, Everest, and finally, Denali.
When he will continue his quest to complete the Seven Summits has been the topic of much speculation. Here are some things that Sir Romi has authorized the blogger to disclose:
1. Kamusta po kayo?
Office work mode lately, focusing on external projects such as Disaster Response / Search & Rescue awareness campaign and formation of team w/in my organization (UPMountaineers). Have not been 'seriously' climbing abroad, last time was 2008 (Denali).
2. What do you think is the significance of Filipinos going for international expeditions and performing feats around the world?
First, expedition is niche activity – doing so make us (pinoy) looked good vs. stereotyped images. That we can also accomplish difficult objectives similar to our 'more rich/developed' countries
Second, Pinoys look forward to 'good feel' news. We can all celebrate from each others successes, makes us proud to be Pinoy when hearing accomplishments or recognitions..
3. Many people are now interested in going for international climbs like Kinabalu and Kilimanjaro. Any advice on how to budget for those trips, and how to train for it?
WORK HARD to get money, and when you travel, do so budget type. Training is easiest.
4. Aside from being an occasional talent in GMA7, what are your ongoing projects?
Projects include Disaster Response, continual Eco awareness trips (planting, diving, outdoors in general), upcoming (nx yr) another kayaking expedition.
5. Any message to the mountaineering community in the Phillippines, for now?
Let's redefine our mountaineering objectives and make sure that LNT principles along with conservation programs are given equal importance vs. just doing fun climbs. There will come a time that there will be no good mountains to climb if our mountains' conditions continue to deteriorate.