Share the passion with Shirt no. 5, "It's more fun in the Philippine mountains"!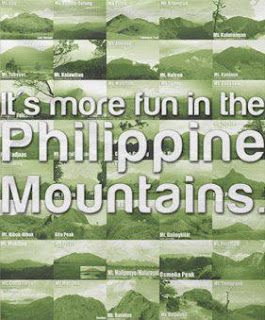 Shirt no. 5, "It's more fun in the Philippine mountains", is NOW available in all The Perfect White Shirt stores. Like the recently-released Shirt no. 4, this shirt aims to "share the passion" of hiking through simple messages, this time, drawing on the popular, new tourism slogan. Shirt no. 4, "Hike" will also have new stocks released next week.
You can get the shirts at The Perfect White Shirt Branches specifically in:
1. Glorietta – 3rd Floor, Teenzone, Glorietta 3, Makati City
2. Trinoma – 2nd Floor, Teenzone, Trinoma, Quezon City, near Converse
3. Market!Market! – K6, Ground Floor, Redev Area, Market!Market!, Taguig City
4. Alabang Town Center – 2nd floor, in front of T-SHIRT PROJECT, near National Bookstore
5. Robinsons Place Ermita – Padre Faura Wing, First Level, in front of Goldilocks
MINDANAO (coming soon)
1. Viajero Outdoor Store, Cagayan de Oro
2. House of Lord Anthony, Davao City
3. RJ Treehouse Outdoor Shop in Pagadian City
ONLINE STORE
You may also order them ONLINE through shirts@pinoymountaineer.com! Just email us
*Since these are LIMITED EDITION shirts, we will be accepting PRE-ORDERS so that we may reserve shirts for you already. Pre-ordered shirts may be acquired through PICK-UP in any preferred The Perfect White Shirt Branch (Glorietta, Trinoma, Market!Market!, Alabang Town Center, Robinsons Place Manila) or thru SHIPPING/COURIER.
STEPS ON HOW TO ORDER/PRE-ORDER SHIRTS ONLINE (FOR BOTH PICK-UP AND SHIPPING)
1. Choose your design, shirt color and size.
For Shirt Designs and Color, please check out:
http://www.facebook.com/media/set/?set=a.190649190983925.43107.170730572975787
For Sizing and Dimensions:
http://www.facebook.com/media/set/?set=a.190708324311345.43137.170730572975787
– Please fill up this information and send/email them to us. More details below on how to fill up the information needed.
Full name:
Address for shipping/preferred pick-up branch: (Please choose from the branches listed above)
Contact number: (preferably Mobile number)
E-mail address:
Orders: (Quantity / Design / Color / Size / For Men's or Women's)
Mode of Payment: (BDO, BPI or G-cash or pay at the branch)
AVAILABLE MODES OF PAYMENTS
(Please take note that when you choose to have the shirt shipped, we will wait for your payment before we send the shirts thru courier.)
Bank Deposits:
Banco De Oro (BDO)
Account Name: The Perfect White Shirt Trading
Account No: 3520073360
Account Branch: Eastwood Techno Plaza, Quezon City
Bank of the Philippine Islands (BPI)
Account Name: The Perfect White Shirt Trading
Account No: 004339185684
Account Branch: Acropolis Branch, Quezon City
Gcash:
*You guys may go to any Globe Business Center or Gcash Outlets and ask to send Gcash to the following account number and details.
09178545696
Philippe Arenillo
1927 Road 5 NDC Compound Pureza Street, Sta. Mesa
*Please note that you may send Gcash through globe and gcash outlets even though you don't have a GCASH account.
Paypal:
*You may send paypal credits to Paypal Account email: marketing@perfectwhiteshirt.com
*Payments thru PAYPAL will be charged with an additional 3.9% of the Total bill plus 15 pesos (or as converted to a specific currency) for the service charge
*Non Paypal users may register at Paypal.com
Payment upon pick-up:
*Payment can be made upon pick up of shirts in any The Perfect White Shirt Branch listed above.
SHIPPING DETAILS/RATES:
*Minimum of:
P50 within metro manila (xend express)
P120 outside metro manila (air 21)
International Shipping rates will be depending on location.
Estimated Time of Arrival: 2-3 working days after payment (except weekend and holidays)
*rate may change depending on the weight and location
2. Please wait for our reply (usually 24-48 hours) to confirm your order and your total bill.
*People who will be choosing the PICK-UP option will be emailed their total bill and the schedule for pick-up from their preferred The Perfect White Shirt Branch.
*People who will be choosing the SHIPPING option will be emailed their total bill and will be reminded on how to finalize their payment on their preferred payment method.
3. For the SHIPPING OPTION – After payment has been made thru preferred method, please inform us thru email, facebook PM (www.facebook.com/account.everydayassault) or SMS (09178545696) the amount paid, method used and your name.
4. Once we have confirmed your payment, we will email or PM you your tracking number and estimated arrival of package.
Thank you very much for reading our update. Please don't hesitate to email us back or contact us at 02-7389443 (10am-6pm Monday-Friday) for further questions and inquiries. Thank you very much!
CONTACT PERSON:
Philippe Arenillo
The Perfect White Shirt
Everyday Assault
www.facebook.com/everydayassault
02-7389443
shirts@pinoymountaineer.com
The numbered PinoyMountaineer Shirts are the visual representation of the outdoor spirit that we envision and cherish; they are the canvas by which we express and attempt to capture, then share, the beauty and adventure that we experience in and with the mountains. By collecting these shirts, you are also supporting the advocacy of the website of promoting Philippine mountains!