New stocks of PinoyMountaineer Shirts no. 1,3, 4 and 5 now available at The Perfect White Shirt branches!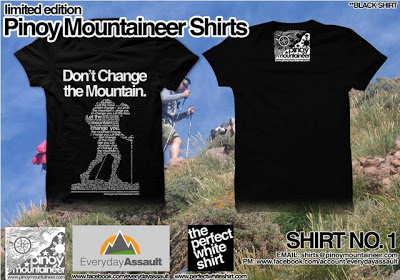 We've been getting a lot of requests for a reprint of Shirt no . 1 and Shirt no. 3, so we decided to print limited edition copies of it, with Shirt no. 1 reprising its Black color whereas Shirt no.3 comes out in a new Stained Dark Brown edition. These shirts are now available in all The Perfect White Shirt branches in Metro Manila for P350.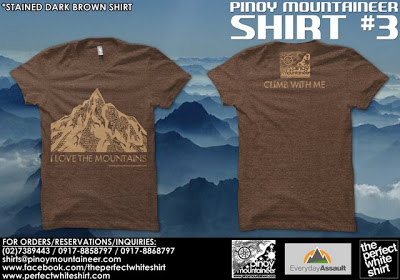 Also, there are new stocks of the bestselling Shirt no. 4, with four different colors: White, Green, Maroon, and Black! Shirt no. 5 is also still available in all stores! Check them out in any TPWS branch, or you can pre-order online by emailing shirts@pinoymountaineer.com!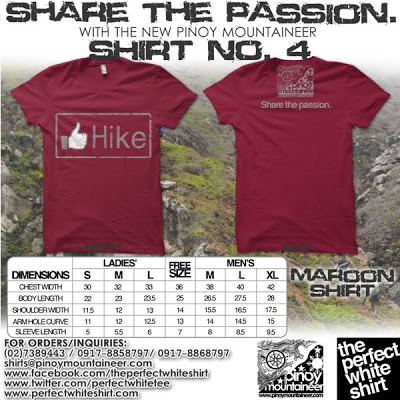 The Perfect White Shirt Branches
1. Glorietta – 3rd Floor, Teenzone, Glorietta 3, Makati City
2. Trinoma – 2nd Floor, Teenzone, Trinoma, Quezon City, near Converse
3. Market!Market! – K6, Ground Floor, Redev Area, Market!Market!, Taguig City
4. Alabang Town Center – 2nd floor, in front of T-SHIRT PROJECT, near National Bookstore
5. Robinsons Place Ermita – Padre Faura Wing, First Level, in front of Goldilocks
Mindanao Branches
1. Viajero Outdoor Store, Cagayan de Oro
2. House of Lord Anthony, Davao City
3. RJ Treehouse Outdoor Shop in Pagadian City
Online Store
You may also order them ONLINE through shirts@pinoymountaineer.com! Just email us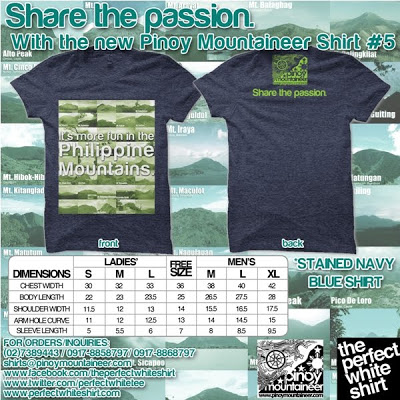 Since these are LIMITED EDITION shirts, we will be accepting PRE-ORDERS so that we may reserve shirts for you already. Pre-ordered shirts may be acquired through PICK-UP in any preferred The Perfect White Shirt Branch (Glorietta, Trinoma, Market!Market!, Alabang Town Center, Robinsons Place Manila) or thru SHIPPING/COURIER.
Philippe Arenillo
The Perfect White Shirt
Everyday Assault
www.facebook.com/everydayassault
02-7389443
shirts@pinoymountaineer.com
The numbered PinoyMountaineer Shirts are the visual representation of the outdoor spirit that we envision and cherish; they are the canvas by which we express and attempt to capture, then share, the beauty and adventure that we experience in and with the mountains. By collecting these shirts, you are also supporting the advocacy of the website of promoting Philippine mountains!