[AMCI] Basic Mountaineering Course Starts June 6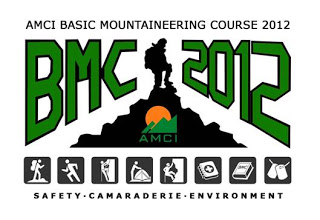 If you're based in Manila, looking to spend your weekends exploring what nature has to offer, and are looking for like-minded individuals, this might be what you're looking for.
AMCI's Basic Mountaineering Course or BMC is a course that integrates Physical Fitness, Lectures, and Skills Training into a comprehensive 5-month Program (June to October). The course includes 5 climbs around the Philippines, rapelling, rock climbing, and Red Cross training. AMCI has been conducting Basic Mountaineering Course since 1983 and has trained more than 1000 mountaineers since then. Those who complete the 5-month program are eligible to be inducted into the club.
AMCI is one of the mountaineering clubs that are in correspondence and collaboration with PinoyMountaineer.com.
The fee for this year's BMC is P 4,500. A free orientation will be conducted on June 6, 2012 at the Penthouse of the Old Makati Stock Exchange Building, Ayala Avenue, Makati. Learn more and see the videos by visiting www.amci.org.ph. Interested parties may email Patrick Peig inquiries@amci.org.ph or call 0947-3370039.