[Mountain News] Pinay hiker Mutya Bernardo, top contender in international adventure writing contest. Let's support her!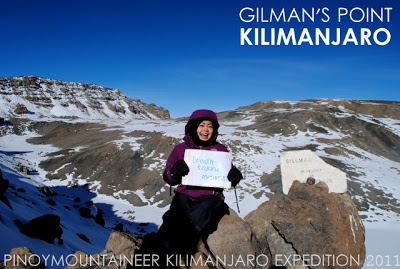 Go, Ma'am Mutya!! Our Kilimanjaro teammate, Filipina hiker and medical doctor
Mutya Bernardo
is now a top contender in an international adventure writing contest! As of May 21, 2012, she is ranked #2 in the
I Am Intrepid competiton
!
Mutya is a regular weekend climber, whose favorite mountains in the Philippine include Mt. Batulao and Mt. Kalawitan. Yet, she also pursues dreams of exploring mountains abroad: she has already summitted Mt. Kinabalu (2011), Snow Mountain (2012).
In her entry, she writes about our unforgettable journey to the summit of Mt. Kilimanjaro, the highest mountain in Africa, and the dramatic turn of events that awaited us at the peak.
Let's support Ma'am Mutya by
voting for her entry
! Don't forget to click the
VOTE
button in the page. Her victory is a chance to show the world that indeed, "Kaya ng Pinoy".