Hiking matters #113: A tour of mountaineering and outdoor shops in Davao City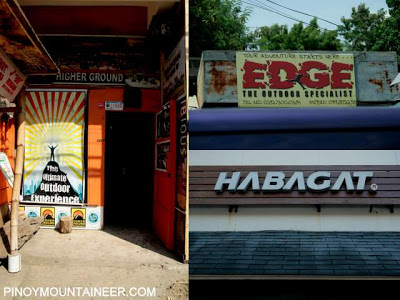 Davao City, being the largest city in Mindanao which is practically the land of adventure and outdoors, ought to have a number of outdoor shops. We referred to the
PinoyMountaineer Directory of Outdoor Shops in the Philippines
and zoomed in on the listing of
hiking and outdoor shops in Davao City
. We weren't able to cover much ground, however, as we had limited time and Davao was simply too big for us to check out everything.
First, we passed by EDGE Outdoors in Bajada. Then we proceeded to Toril, only to find out that some of the outdoor shops there had either closed down or are being renovated. Instead, we found ourselves in Higher Ground Outdoor Shop, which was in Artiaga St. The interesting thing about Higher Ground was it was actually producing its own brand of pants that are offered in competitive prices. Unfortunately, they had limited choices and sizes, though the owner says their pants and shorts could be bought in other outdoor shops as well. Aside from clothing, there was nothing much being offered in the shop.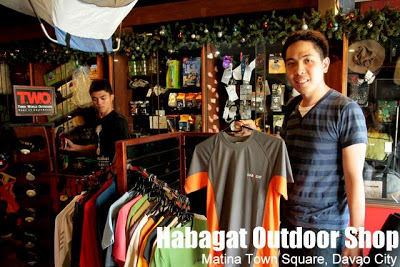 In SM City, we found a The North Face boutique on the ground floor. I nearly bought the TNF sleeping bag that I've always been wanting to buy in Manila, and I nearly did but hesitated because I somewhat concluded that the TNMeanwhile, in Matina Town Square, the Habagat Outdoor Shop packs not only the usual Habagat bags, but an increasingly fashionable line of dri-fits and other tops.
Finally, we ended up in House of Lord Anthony in F. Inigo (Anda) Street in downtown Davao City. I was impressed with the store, which had quite a comprehensive selection. Most of their gear are mainly sourced from local suppliers (Ground Zero, Lagalag, Habagat, etc.), but they have Petzl headlamps, I think some hiking shoes from Merrell and Keen, among others, were there too. Coby Sarreal and I bought earth pads here at P400, and I also got myself a very nice Coleman sleeping bag. If I had to choose one outdoor shop to gear up with in Davao City, it would have to be House of Lord Anthony.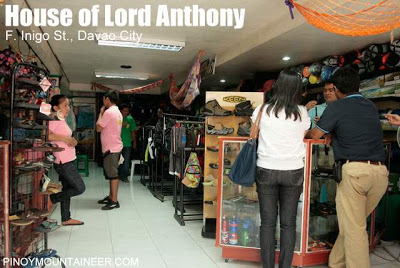 Meanwhile, Merrell has presence on the department stores of all the malls: SM, NCCC, and Gaisano (G Mall). Calinan, a somewhat highland district of Davao that's the gateway to Mt. Talomo and the lengthy Tamayong trail to Mt. Apo, is supposed to be home to a couple of outdoor shops as well, and there are some other small outfits downtown. I would have wanted to drop by Everest Outdoor Shop, operated by Mindanao adventurer and Everest summiteer Pastour Emata.
In conclusion, Davao has an interesting roster of outdoor shops worth checking out, and if you're coming from Manila and somehow forgot your stove on the way up Mt. Apo, there's no need to worry: Davao City can supply you with your outdoor needs. An example: when I first came to this city in 2005 to climb Apo, I bought my very first stove – a Kovea – for P1,400 in SM Davao. Five years later, the stove is back, and I have no plans of replacing it anytime soon.