Book Review: The Ultimate Hiker's Gear Guide by Andrew Skurka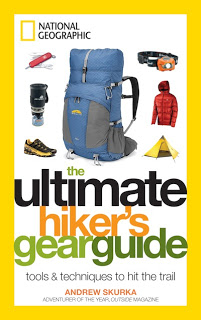 My American hiking companion, Chris, gave me a wonderful present: two books, one of them Andrew Skurka's The Ultimate Hiker's Gear Guide. This small volume wonderfully encapsulate all the basic stuff you need to know about hiking gear, and I have come to like the book, and I have even followed Skurka's recommendation of what hiking shoe to use — to the great joy of my feet!
TUHGG is a very readable book from a well-renowned adventurer. Amazingly, the book discusses everything in just well over 200 pages – an achievement in itself. The book starts off by asking the reader: "Are you a hiker or a camper?", which hits the truth in many debates between mountaineers: what to bring in a hike? Is it important? If only people will realize that outdoorsmen have different orientations (i.e. hiking vs. camping), then they will understand each other much more.
The book then goes through all the "tools & techniques" of hiking: from clothing, footwear and shelters to food, cooking systems, and down to small essentials and packing. Finally, it shows some "sample gear kits" where all his gear are tabulated, including the weight of each.
The book's recommendations on gear are very personal and honest. For instance, Skurka (as Chris and I often discuss) makes the assertion that there is no truly waterproof-breathable jacket, and I can relate to this, having tested out various technologies that claim to have that feature.
One great feature of TUHGG is that it has tables in each section, i.e. base layers, comparing between various kinds of that particular gear, in the case of base layers, merino wool vs. cotton vs. synthetic. And many parameters are compared, including cost, quality, durability, weight (importantly!), among others. Having this kinds of comparison puts things in perspective, making life easier.
Choosing, using, and taking care of gear and equipment are included in most Basic Mountaineering Courses in the Philippines. But I think having a book like TUHGG builds on that knowledge by speaking in practical terms which brands are good, which brands are expensive, and so on. The discussion of various brands is a breath of fresh air in a country like the Philippines where the options are confined to just a few brands.
Tropical hiking will always have its unique needs and requirements, but the general principles in the book are useful to one and all. Moreover, Filipinos embarking on foreign hikes would want to brush up on things that are of little application locally, such as layering, using fabrics like merino wool, and so on.
Considering all these, and the benefit I've derived from it, I highly recommend Andrew Skurka's The Ultimate Hiker's Gear Guide!