Hiking matters #283: Mt. Mabilog above the beautiful lakes of San Pablo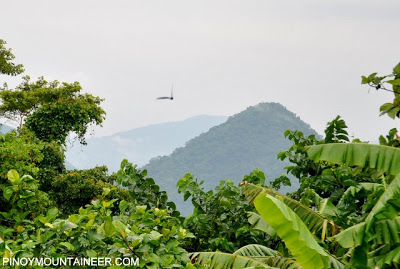 Three weeks after my most recent climb, up Mt. Damas in a memorable dayhike traverse with GAME-NEST (Hiking matters #282), I was finally able to do a hike again. The inclement weather for the past two weeks has interfered with my hiking plans, but on August 13, 2012, rain notwithstanding, I proceeded with my hiking buddy Coby Sarreal and Ryan of Trail Adventours on a hike up Mt. Mabilog in my hometown of San Pablo.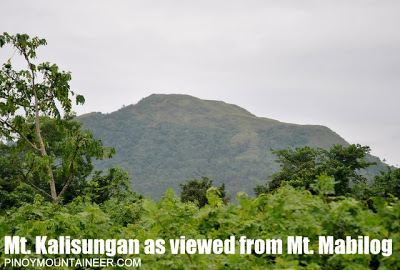 Mt. Mabilog is a small mountain within the rugged terrain that bounds the towns of Calauan and Nagcarlan with the city of San Pablo. Therein lies Mt. Kalisungan, Mt. Atimla, Imoc Hill, and Mt. Mabilog, among some other smaller peaks. Kalisungan's place in the hiking community has been established since 2005; Mabilog emerged more recently, with various groups exploring its different trails.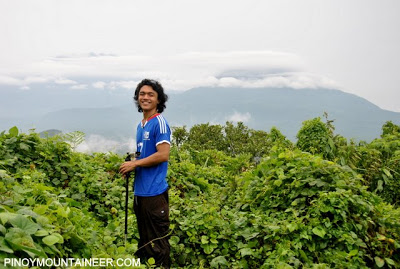 From the poblacion of San Pablo, we took a tricycle which brought us directly to Purok 3 of Brgy. Sta Catalina, one of three traiheads for Mt. Mabilog. We announced our intention to hike Mt. Mabilog to the barangay folk, then started trekking. It was a weekday, and it was raining hard; we did not have the opportunity to look for guides so we just decided to navigate by ourselves.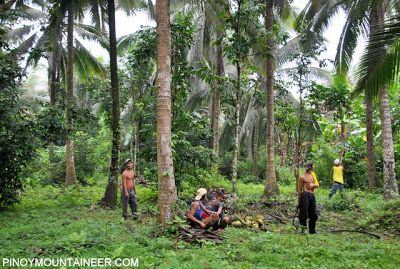 "Sundan nyo lang yung buhay na daan," advised the coconut harvesters, telling us to just follow the 'living trail', referring to the path that is often used, and therefore has tell-tale signs of life: footprints, mud, and occasional (and unfortunate) cigarette stubs. In the convoluted circuitry of trails in rural areas, however, a compass (and commonsense) still trumps directions. In our case, we realized that we had to turn right and connect to a ridgeline covered with coconut trees in order to reach the summit.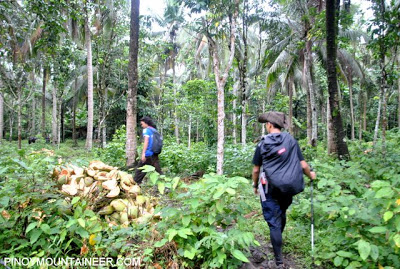 This realization, however, meant that we had to follow trails that are not really established. Fortunately, there were no thorns or other noxious plant parts to deal with, just mud and more mud (but not as much mud as, say, Buntot Palos). And, the fruits we encountered (and ate) along were truly delightful: lansones, santol, guava, and banana!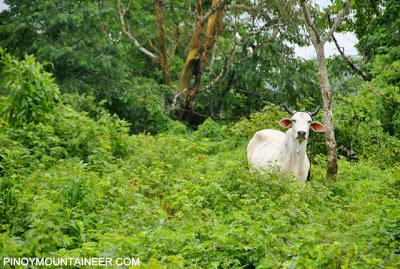 Past the coconut ridge, there was a nipa hut with a water drum which was teeming with maggots. This reminded me of a climb I did when I was young, when I recklessly forgot to bring any water with me, thinking that it was hiking an easy mountain! It was easy, yes, but it was also easy to get lost. And get lost we did, to a point of dehydration after several hours of wandering, and confronted with a similar water drum with maggots, yes, in desperation, I took a gulp of it.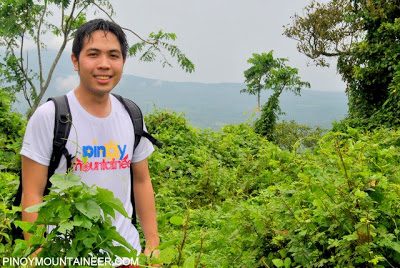 My meanderings aside, we headed up the ridge where we encountered more trail overgrowth, to a point that we realized that we better just find our own way up the peak! And we did just that: squeezing through those clumbs of bananas, and very thick shrubs. Finally, the hoped-for plateau came into view, and we had made it after 1 hr 40 mins of trekking!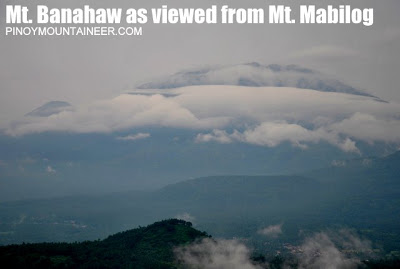 At the top, the views were very nice, particularly the sight of the Twin Lakes, Pandin and Yambo (SE), and behind them, the Banahaw trilogy. The mountains were partially obscured by clouds, though, and the overgrowth obstructed some of the lakes: I could only manage a glimpse of Sampaloc Lake (SW); clearer were views of Mt. Makiling (W), and Mt. Kalisungan (NW). The inominate, pruritogenic insects notwithstanding (do bring Off lotion or Citronella spray if you will hike this), we had an enjoyable, if fleeting, time at the summit.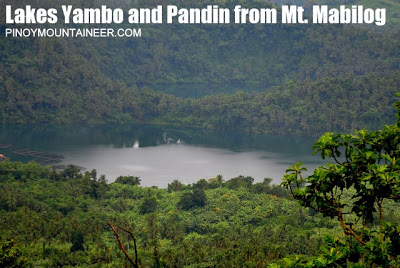 Now equipped with the memory of the trail, our descent was swifter, taking only 45 minutes, and back at Brgy. Sta. Catalina, the locals somehow found it odd that we had ventured into Mt. Mabilog amid the gloomy weather, and on a weekday at that. Also, I didn't think they were not impressed with my attempt at a San Pablo accent: "Ano po bagang tawag nyo dini sa lugar na'to?" But, I loved the ten-peso buko salad that one of them offered, as we waited for the jeep! "This is real thing," she said, adding: "Not like the buko-bukohan in Manila."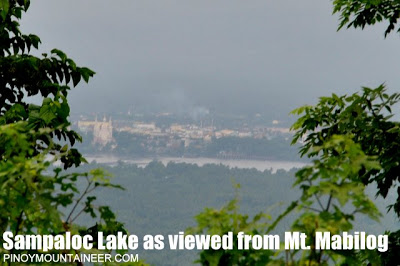 It was indeed the real thing. Coming from a hike across coconut country, the iced buko salad was both reward and refreshment. Twenty minutes and 11 pesos later, we were at San Pablo city proper; we then took a jeepney to Los Banos, for a pitstop and lunch-cum-dinner before heading back to Manila.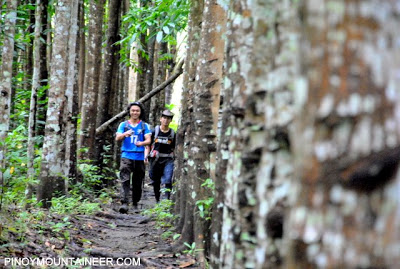 What a nice trek! It is sometimes true that the attractions in your own town, or your province, are those you tend to take for granted. I should have visited Mt. Mabilog, which is just a tricycle ride away from my grandparents' home, a long time ago. Now that I have finally made it, I am very glad, for it was well worth it. And it's easy for me to come back.