Hiking matters #309: Hiking up Nagpatong Peak in Lobo, Batangas
They say it's better late than never, and today, after doing Mt. Tibig and Mt. Naguiling, I thought it would be good to have an account of my first hike in Mt. Lobo – up Nagpatong Peak, on November 10, 2012. Joining me in this hike were my American friend Chris and my hiking buddy Eka Moises, of the UP Mountaineers.
The hike doubled as a road trip: Chris brought his Jeep and we drove via SLEX and Star Tollway to Batangas City, then took the Batangas-Lobo road: the scenic route that passes through the southernmost parts of the province, along Verde Island passage. Here, in a place where birds like the osprey above roam freely, we already had a foretaste of the mountains, passing through the shadow of Mt. Pinamucan, Mt. Pulot Itaas, and Mt. Banoi before reaching Lobo poblacion, where we were met by our guide Jay Bondoc.
From Lobo, it took us easily another hour to reach the registration point, Brgy. Curba, then the trailhead, Sitio Kastila. The Jeep had its fair share of adventure, making a river crossing through untested waters that caused our heartbeats to momentarily rise. After registering at the military outpost, we started the trek. Initially, we passed through farmlands but immediately found ourselves in a nice woodland, with a stream with a small waterfalls that I dubbed Katiting Falls.
From there, we went deeper into the woodlands. We reached a fork called 'Dalawang Daan' where a leftward turn would have taken us to Bangkalan Peak, the other destination in the mountain. Instead, we headed rightward until we emerged on the side of a lesser gorge. There, one can find a house where Aling Marissa, a kind woman, lived. She asked us if we had made any plans for lunch. I usually just eat trail food throughout the hike, but her offer of native chicken was irresistible and we agreed.
From Aling Marissa's house the summit was just an hour away, passing through a forest and then a grassland, which offers very nice views of Southern Tagalog mountains. There was Maculot and Malipunyo, as well as nearby Mt. Banoi, among others. Daguldol, which lay in the east, must have been eclipsed by the peak of Lobo – which I referred to as Gulugod Baboy as per Jay, but which I would eventually discover and hike as Mt. Naguiling (see Hiking matters #416).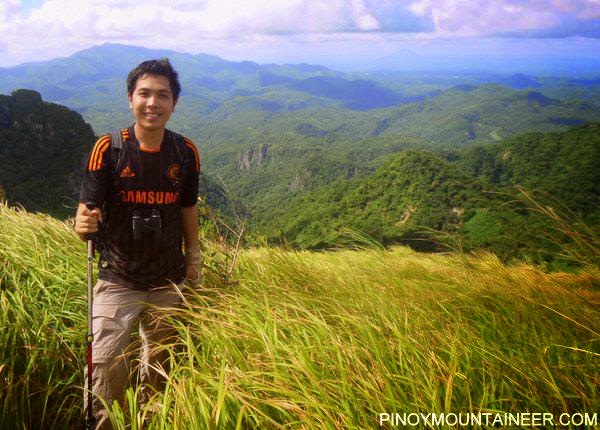 There is a small campsite in Nagpatong Peak, but we didn't stay long there – as we were aware of how long the travel back to Manila would be. We were also a bit anxious about the return trip through the river. So we descended back to Aling Marissa's house where we had lunch, and quickly made our way back to Sitio Kastila. It would take several more hours before we reached our respective homes, but it was a worthy trip!